Why are pedestrians being used as the guinea pigs in the self-driving vehicles experiment?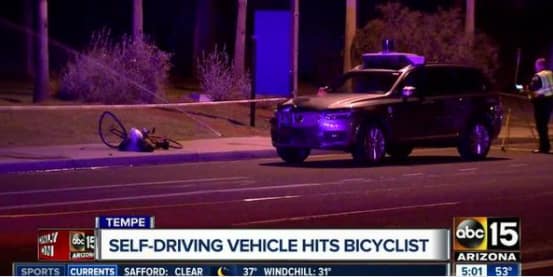 The Center for Auto Safety is the nation's premier independent, member driven, non-profit consumer advocacy organization dedicated to improving vehicle safety, quality, and fuel economy on behalf of all drivers, passengers, and pedestrians.
Late Sunday, a pedestrian in Tempe, Arizona was tragically killed after being struck by a self-driving vehicle undergoing tests by Uber. The woman, 49, was evidently crossing the street on her bicycle when she was hit by the vehicle, which was being supervised by a human passenger. Subsequently, Uber has halted it's testing of self-driving vehicles and an initial investigation by local authorities, NTSB, and NHTSA into the deadly accident is reportedly underway.
"This is exactly what we have been concerned about what might happen if you test self-driving vehicles on city streets," said Jason Levine, executive director of the Center for Auto Safety. "It will set consumer confidence in the technology back years, if not decades. We need to slow down."
Unfortunately, this issue is not just about one incident in Tempe. As driverless vehicle tests expand across the country, self-driving cars that lack proper regulatory oversight will interact with more and more humans. The Center has long advocated for stricter safety rules and more oversight for self-driving cars. While autonomous vehicles have the potential to save many lives, pushing the vehicles out on the road without the proper testing and regulations is a mistake.
"The Trump administration has taken a completely hands off approach to providing guardrails to assure the safety of this technology before it is tested in our communities. It is time they stand up for the safety of consumers over the interest of corporate shareholders," said Levine.
In 2017, NHTSA adopted voluntary guidelines for autonomous vehicle safety–an action designed to put manufacturers directly into the driver's seat. Crashes like yesterday's are tragic, but are likely to continue if NHTSA fails to do its job and regulate safety. Self-driving technology is clearly not ready for widespread testing in uncontrolled environments.
Learn more about this story as it continues to develop and the future of autonomous vehicles and safety.