Volkswagen Emissions Defeat Devices Violate EPA Emissions Rules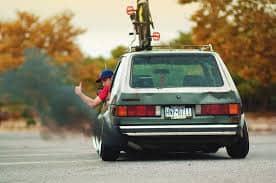 The Center for Auto Safety is the nation's premier independent, member driven, non-profit consumer advocacy organization dedicated to improving vehicle safety, quality, and fuel economy on behalf of all drivers, passengers, and pedestrians.


September 21, 2015
VW is a recidivist emission control violator using defeat devices to turn off emission controls used only in emission testing.  Under former Administrator Bill Ruckelshaus, EPA warned VW in 1972 about defeat devices and then sued it in 1973 when VW failed to heed the warning. VW paid a $120,000 fine and promised to comply with the Clean Air Act in the future.  So much for promises to obey the law.  The only way to change auto company behavior is to put the responsible executives in jail.  After a flagrant pattern across the auto industry of violating US health and safety laws, the Center for Auto Safety calls on the Justice Department to move to put the responsible VW executives behind bars as it just did with peanut butter manufacturers.
Statement of Clarence Ditlow
Executive Director, Center for  Auto Safety
#     #     #
CAS Statement on Volkswagen $15 Billion Emissions Settlement – 10/25/16
FTC Volkswagen Settlement Information – October 2016
Volkswagen to Spend up to $14.7 Billion to Settle Allegations of Cheating Emissions Tests and Deceiving Customers on 2.0 Liter Diesel Vehicles – 6/28/16
FTC v. Volkswagen Proposed Partial Stipulated Order for Permanent Injunction and Monetary Judgement – 6/28/16
Center for Auto Safety Moves to Intervene in Justice Department Lawsuit Against VW – 1/5/2016
United States Files Complaint Against Volkswagen, Audi and Porsche for Alleged Clean Air Act Violations – 1/4/2016
VW Diesel Goodwill Package Information
EPA Volkswagen Information Page
Statement from CARB on defeat devices on 3-liter VW, Audi diesel engines – 11/20/2015
EPA, California Notify Volkswagen of Additional Clean Air Act Violations – 11/2/2015
Center for Auto Safety Sues Volkswagen & Audi Over Emission Violations Using Defeat Devices – 10/19/2015
EPA, California Notify Volkswagen of Clean Air Act Violations – 9/18/2015
EPA Notice of Emissions Defeat Device Violation to Volkswagen – 9/18/2015
Volkswagen Fined $1.1 Million for Failure to File Emissions Defect Information Report with EPA – 6/15/2005
Volkswagen Settles Defeat Device Case with EPA and Justice Department – 3/13/1974
Volkswagen Referred to Justice Department for using Emissions Defeat Device – 7/23/1973
Other Auto Company Defeat Devices
Dodge Truck Owners Accuse Chrysler of VW-Like Cheating – 11/14/2016
EPA Manufacturer Guidance on Real World Confirmatory Testing – 9/25/2015
DOJ, EPA Announce One Billion Dollar Settlement with Diesel Engine Industry for Clean Air Act Violations – 10/22/1998
Cummins Engine Company Diesel Engine Clean Air Act Settlement – 10/22/1998
Enforcement Alert: Clean Air Act Prohibits 'Defeat Devices' in Vehicles, Engines – (Honda & Ford) 8/1998
Ford to Spend $7.8 Million in Clean Air Act Settlement and Recall 1997 Econoline Vans – 6/8/1998
American Honda Agrees to $267 Million Settlement to Resolve Clean Air Act Violations – 6/8/1998
U.S. Announces $45 Million Clean Air Settlement with GM – 11/30/1995
Cadillac $45 Million Defeat Device Penalty – 11/31/1995
EPA Advisory Circular 24-2, Advanced Defeat Devices – 12/6/1978
California Hearing on Defeat Devices – 2/10/1978
EPA Advisory Circular 24-1, High Altitude Vehicle Defeat Devices – 8/27/1976
EPA Advisory Circular 24, Defeat Devices – 12/11/1972
GAO Ford EPA Recertification of 1973 Models for Unauthorized Maintenance – 6/12/1972
LITIGATION
VW Civil, Federal, State Settlements – 6/28/16
Other Litigation
Status Conference Transcript announcing VW 3.0-Liter Settlement – 12/20/16
In Re: Volkswagen 'Clean Diesel' MDL Docket
In Re: Volkswagen 'Clean Diesel' Marketing, Sales Practices, and Products Liability Litigation – Plaintiffs' Amended Consolidated Consumer Class Action Complaint – 9/2/16
Statement of Nonopposition to CA Motion for Consent Decree – 7/21/16
Motion to Enter CA Consent Decree – 7/7/16
VW Diesel Class Action Complaint (Cotchett, Pitre & McCarthy) – 9/25/2015
Texas Court Enters Nation's First Stop Sale Order Of 2015-2016 Volkswagens Diesel Vehicles – 9/25/2015
– Click here to View Order
VW Diesel Class Action Complaint (Girard Gibbs) – 9/21/2015
CONGRESS
Markey, Blumenthal Applaud Partial VW Settlement in Emissions Cheating Scandal – 6/28/16
House Energy & Commerce Committee Hearing: Volkswagen's Emissions Cheating Allegations: Initial Questions – 10/8/2015
NEWS

Volkswagen settles 10 U.S. state diesel claims for $157 million – 3/30/17
Volkswagen pleads guilty in U.S. court in diesel emissions scandal – 3/10/17
What Volkswagen Settlements Mean for Vehicle Owners – 2/1/17
F.B.I. Arrests Volkswagen Executive on Conspiracy Charges in Emissions Scandal – 1/9/16
High-level VW executives could face U.S. charges, report says – 1/9/16
VW Reaches Deal for Emissions-Cheating Audi, Porsche Models – 12/20/16
U.S. agency concerned about destroyed, lost phones in VW probe – 12/9/16
VW Seeks Final Emissions Deal Approval Without Fix in Hand – 10/18/16
Veteran Volkswagen Engineer Charged in U.S. Emissions Probe – 9/9/16
EU Seeks to Coordinate Consumer Action against VW over Dieselgate – 9/5/16
In the U.S., VW Owners Get Cash. In Europe, They Get Plastic Tubes – 8/15/16
Volkswagen Scandal Reaches All the Way to the Top, Lawsuits Say – 7/19/16
VW may face shareholder calls to reclaim executive bonuses – 7/13/16
California rejects Volkswagen's recall plan for 3.0-liter diesel vehicles – 7/13/16
Impact of VW deal depends on diesel fix – 7/11/16
VW And Regulators Reportedly Near Emissions Scandal Deal – 6/23/16
VW Said to Pay Diesel Owners Up to $7,000, Fund Air Grants – 6/23/16
Volkswagen diesel civil suits to be heard in California – 12/8/2015
Sarcasm and Doubt Precede VW's Update on Cheating Inquiry – 12/6/2015
VW Cuts Its R.&D. Budget in Face of Costly Emissions Scandal – 11/20/2015
VW's 3.0-liter diesels under wider scrutiny by EPA, CARB – 11/20/2015
Volkswagen Faces Major Spending Cuts and Regulatory Deadlines – 11/18/2015
Volkswagen offers cash, credit to help placate diesel owners – 11/9/2015
Does VW 'goodwill' payment clause prevent owners from suing? – 11/9/2015
Volkswagen Says Whistle-Blower Pushed It to Admit Broader Cheating – 11/8/2015
EPA Says Volkswagen Cheated a 2nd Time on Pollution Tests – 11/2/2015
Essential Part of the Volkswagen Diesel Repair Is the Owner – 10/18/2015
An Update on Volkswagen Dieselgate – 10/16/2015
VW Scandal Exposes Cozy Ties in Europe's New Car Tests – 10/14/2015
'It is certainly going to worsen Volkswagen's troubles' – 10/10/2015
U.S. States Jumping Into Investigation of VW Emissions Deception – 10/2/2015
American Lung Association Letter on Volkswagen Emissions Health Impacts – 9/29/15
Complex Car Software Becomes the Weak Spot Under the Hood – 9/26/2015
How Volkswagen Could Compensate Diesel Owners – 9/25/2015
Does EPA's Response To Volkswagen's Emissions Cheating Go Far Enough? – 9/25/2015
After Volkswagen Revelation, Auto Emissions Tests Come Under Global Scrutiny – 9/24/2015
Volkswagen and the Era of Cheating Software – 9/23/2015
VW's Dilemma: How a Recall Might Work – 9/23/2015
VW had previous run-in over 'defeat devices' – 9/23/2015
Volkswagen Scandal 2015: VW Not The First Automaker To Adopt 'Defeat Devices' And Override Emissions Controls – 9/23/2015
Carmaker cheating on emissions almost as old as pollution tests – 9/23/2015
U.S. PIRG Launches "Make VW Pay Campaign" Over EPA Cheating Scandal – 9/23/2015
Volkswagen Test Rigging Follows a Long Auto Industry Pattern – 9/23/2015
Volkswagen C.E.O. Martin Winterkorn Resigns Amid Emissions Scandal – 9/23/2015
Volkswagen Says 11 Million Cars Are Affected in Diesel Deception; Sets Aside $7.3 Billion – 9/22/2015
Volkswagen Sets Aside $7.2 Billion to Pay for Emissions Cheating Scandal – 9/22/2015
Volkswagen says 11 million vehicles worldwide are affected by emissions scandal – 9/22/2015
U.S. taxpayers duped into shelling out $51 million in green subsidies for 'clean' VW vehicles – 9/21/2015
VW Is Said to Cheat on Diesel Emissions; U.S. to Order Big Recall – 9/18/2015
VW cheated on U.S. pollution tests for 'clean diesels' – 9/18/2015
Bosch News
Bosch sought VW legal cover for defeat device in 2008, plaintiffs charge – 9/6/16
Exclusive: U.S. probes Bosch in VW cheating scandal – 11/19/2015
EDITORIALS
Make an example out of Volkswagen – 6/10/2016
Test Emissions Where Cars Pollute: On the Road – 9/30/2015
Complex Car Software Becomes the Weak Spot Under the Hood – 9/26/2015
In the eyes of the government, not all corporations are created equal – Keene NH Sentinel 9/25/2015
Problems at Volkswagen Start in the Boardroom – NY Times Common Sense James B Stewart, 9/24/2015
Of Peanuts and Prosecutions – 9/23/15
Volkswagen should suffer the consequences of its cheating – Washington Post 9/23/2015
Volkswagen plays dirty with 'clean diesel': Our view – USA Today 9/21/2015
LA Times Editorial: Did Volkswagen cheat? – 9/19/2015