Jack Gillis and the Center for Auto Safety Reveal the Car Book's Best Bets for 2018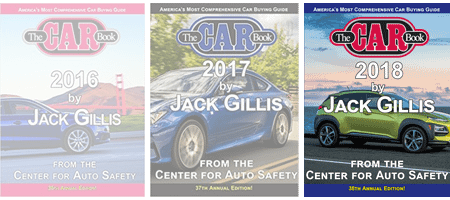 The Center for Auto Safety is the nation's premier independent, member driven, non-profit consumer advocacy organization dedicated to improving vehicle safety, quality, and fuel economy on behalf of all drivers, passengers, and pedestrians.
Jack Gillis and the Center for Auto Safety Reveal the Car Book's Best Bets for 2018
Now Available for the First Time Online at www.TheCarBook.org
Washington, D.C. — For the past 38 years, Jack Gillis and the Center for Auto Safety have partnered to publish The Car Book, America's Most Comprehensive Car-Buying Guide. This year, the Center is pleased to announce that we have made sure that this resource is more convenient than ever before. In addition to the traditional print version, The Car Book 2018 is now available in-full online at www.TheCarBook.com. Like the ground-breaking print edition, TheCarBook.com provides today's car buyer with our unique crash test ratings, comparative complaint ratings, and all of the information needed to make a smart, safe and informed vehicle purchase. In addition to in-depth ratings the 2018 vehicles the site includes over 1,000 used car ratings going back five years.
One of the most unique aspects of TheCarBook.com is the Decision Wizard—an easy-to-use search function, which allows consumers to choose the most important aspects of their ideal vehicle. The Decision Wizard offers multiple search avenues, from size class and price range to crash test results, warranty ratings and safety features, all of which gives consumers the ability to easily choose the car that best fits their needs.
"For 38 years my goal with The Car Book has been to provide all the information consumers need to make an informed, safe and reliable vehicle purchase," said Gillis, a noted consumer advocate and auto safety expert. "Perhaps most importantly, the information presented is totally unbiased and advertising free."
For 2018, The Car Book Best Bets are:
[lgc_column grid="50″ tablet_grid="50″ mobile_grid="100″ last="false"]COMPACT
BMW 3 Series (7)
Kia Soul (7)
Toyota Prius (7)
INTERMEDIATE
Acura TLX (9)
Hyundai Sonata (9)
Toyota Avalon (8)
Toyota Camry (8)
Audi A6 (7)
Subaru Legacy (7)
LARGE
Tesla Model S (10)
Cadillac XTS (8)
MINIVAN
Honda Odyssey (9)[/lgc_column]
[lgc_column grid="50″ tablet_grid="50″ mobile_grid="100″ last="true"]SMALL SUV 
Chevrolet Trax (10)
Honda CR-V (10)
Mazda CX-3 (10)
Acura RDX (9)
Kia Sportage (9)
Ford Escape (9)
MID-SIZE SUV
Tesla Model X (10)
Ford Edge (9)
Toyota Highlander (9)
Honda Pilot (8)
Subaru Outback (8)
Acura MDX (7)
LARGE SUV
Volvo XC90 (8)[/lgc_column]
"Every year since 1980, we have had the great honor of collaborating with the legendary Jack Gillis to produce The Car Book," said Center for Auto Safety Executive Director Jason Levine. "It has grown and matured over these almost 4 decades, becoming a more complete, richer, and user-friendly resource for new car buyers who are more interested in safety than paint colors or cup holders. This year, by creating www.TheCarBook.com, we are empowering a new generation of consumers with the most up-to-date and thorough information on one of the most critical purchases they will make—and do so in a format that easier to access than ever before."
Www.TheCarBook.com presents all the information consumers need to make an informed car purchase, including: crash test ratings; rollover ratings; maintenance costs; lemon ratings; fuel economy ratings; insurance costs; reliability ratings; insights into safety and luxury add-ons; our unique Best Bets in each vehicle category; and much, much more. In order to make this critical data as widely available as possible, consumer access is available for just $10 for a month's access. By joining the Center for Auto Safety and supporting their lifesaving work in Washington, a $48 membership fee provides access to the data for an entire year.
History of The Car Book
In 1980, under Jack Gillis' direction while at NHTSA's Office of Automotive Ratings, the government published the first edition of The Car Book. It instantly became the government's most popular consumer guide. But under pressure from the car makers, who didn't want this information made available to the public, the Reagan Administration killed the book. The next year, to the great consternation of the government and the auto industry, Gillis left NHTSA and continued publishing the book in cooperation with the Center for Auto Safety. The Car Book 2018 marks the 38th such publication. Since Gillis and the Center began providing consumers with access to this information, the auto industry has been forced to respond: Cars have become safer, warranties have improved, and the government has adopted a simpler system for its crash ratings.
##
Over the last 48 years, the Center for Auto Safety has successfully led the fight for lemon laws in every state, airbags in every vehicle, and recall repairs being made at no cost to the consumer. The Center is a membership-driven organization headquartered in Washington, DC and is also home to the Safe Climate Campaign, which fights global warming by working for big, specific measures to reduce greenhouse gas emissions. The Center is also the publisher of The Car Book, which has for the last 38 years been America's most comprehensive car buying guide. To learn more about the Center, please visit www.AutoSafety.org.