What airbag recalls can teach about driverless cars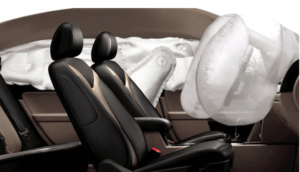 The Center for Auto Safety is the nation's premier independent, member driven, non-profit consumer advocacy organization dedicated to improving vehicle safety, quality, and fuel economy on behalf of all drivers, passengers, and pedestrians.
by Jason Levine, Executive Director, The Center for Auto Safety
February 26, 2020
In 2014, in Orlando, Hien Thi Tran was killed by a Takata airbag exploding in her face.
We are on the cusp of giant advancements in safety when it comes to cars. In states around America, including Florida, there is active testing of self-driving cars. Car companies want us to take our hands off the wheel in their self-driving vehicles. To get there, all they need is for the government to take a hands-off approach to the development and public testing of their cars because rules stifle innovation.
But a useful reminder of what comes from a "Thelma and Louise" style hands-off attitude from car regulators is the status of an amazing motor vehicle safety technology: the airbag.
In 2016, in Hialeah, Ramon Kuffo was killed by a Takata airbag exploding in his face.
Prior to airbags, car crashes subjected occupants to a far greater risk of serious injury or death. Today, they've been credited with saving at least 50,000 lives. Yet, as with any new auto safety technology, getting it right and making it standard required government involvement and regulations. The law requiring frontal airbags in cars was passed in 1991, though it took until 1998 to become standard equipment.
Yet, in 2020, no one could blame consumers for being confused about the state of airbags. More than 50 million U.S. cars have had their airbags recalled over the last few years. Millions of cars have had the same airbag recalled multiple times. If you bought a passenger vehicle between 1995-2015, there's a good chance it's been subject to an airbag recall.
Recalls are inconvenient. Owners are notified by mail their vehicle has a safety defect, or is in violation of a federal regulation, and they need to find the time to bring it in to an authorized dealer for a free repair. Of course, it is better than the alternative.
The alternative is what happened to Nichol Lynn Barker, in 2017, in Holiday, when her Takata airbag exploded in her face, just like Ramon Kuffo and Hien Thi Tran.
Their deaths were just three of dozens caused by Takata, choosing to use ammonium nitrate, a volatile chemical, as a propellant to save pennies on each unit. Sadly, they weren't the last. Two months ago, after two deaths overseas involving shrapnel flying out of an airbag were discovered, Takata announced an unrelated airbag recall involving 1.4 million vehicles made from 1995-2000.
In January, component manufacturer ZF-TRW announced a recall of at least 3 million, and potentially as many as 12 million vehicles because of an airbag control unit which can fail to deploy the airbag when needed. Eight deaths have been linked to this defect. How did car companies allow this amazing safety improvement to become such a mess?
It isn't personal, it's just good business. Other than being occasionally forced to face a jury, there is little cost to the auto industry for saving money by outsourcing quality control to suppliers like Takata and ZF-TRW.
Read the whole article at Orlando Sentinel.