Vehicle not part of nationwide recall bursts into flames while being driven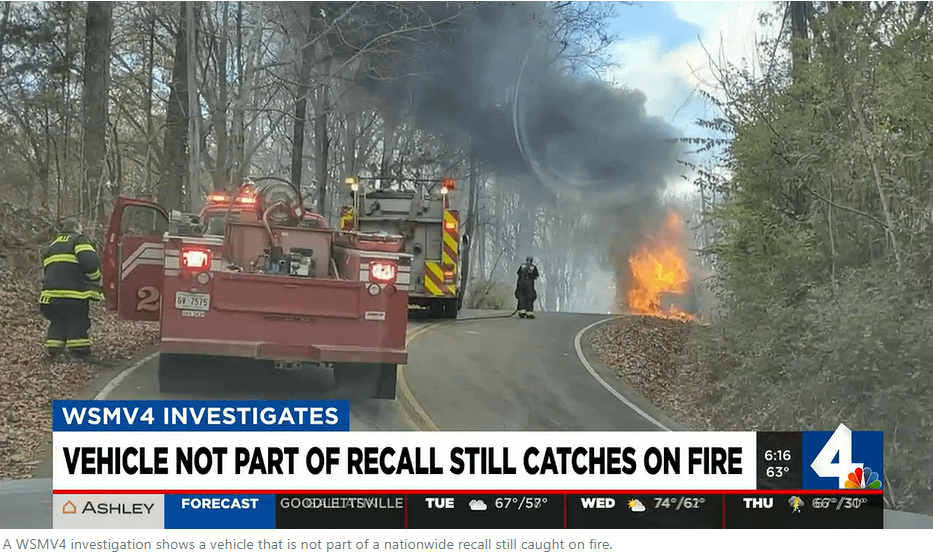 The Center for Auto Safety is the nation's premier independent, member driven, non-profit consumer advocacy organization dedicated to improving vehicle safety, quality, and fuel economy on behalf of all drivers, passengers, and pedestrians.
"That tow hitch recall is one of many ways a fire can start in a vehicle," said Michael Brooks, the executive director for The Center for Auto Safety. "All they can do is rely on Kia to be honest with the process."
By Jeremy Finley
February 13, 2023
NASHVILLE, Tenn. (WSMV) – Dan Beasley will never forget the call from his wife on November 23, 2022. "She called crying saying, 'Come get me, my car's on fire," Beasley said.
Beasley rushed to Russell Road in West Nashville but was warned by his wife not to get too close. "She said, 'Don't come past the car because it's exploding, it's burning," Beasley said.
"She was flagged down by some people behind here on McCrory Lane. They had noticed some flames coming from underneath the car. They said, 'Ma'am, you need to get out of your car, it's on fire.' The next thing you know it's all up in flames. That's how fast it happened," Beasley said.