US steps up probe into Hyundai-Kia engine failures and fires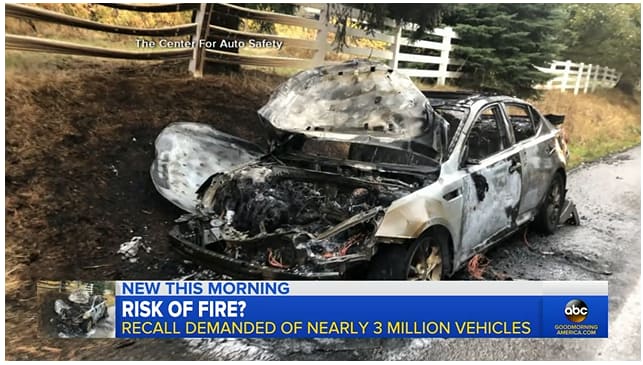 The Center for Auto Safety is the nation's premier independent, member driven, non-profit consumer advocacy organization dedicated to improving vehicle safety, quality, and fuel economy on behalf of all drivers, passengers, and pedestrians.
"Data collected by the nonprofit Center for Auto Safety show 31 U.S. fire and engine-related recalls from Hyundai and Kia since 2015. The recalls involve more than 20 models from the 2006 through 2021 model years totaling over 8.4 million vehicles."
By Tom Krisher
December 27, 2021
DETROIT — U.S. auto safety regulators have stepped up a series of investigations into engine fires that have plagued Hyundai and Kia vehicles for more than six years.
The National Highway Traffic Safety Administration says a new engineering analysis investigation covers more than 3 million vehicles from the 2011 through 2016 model years. The agency has received 161 complaints of engine fires, some of which occurred in vehicles that had already been recalled.
Click here to view the full story from the Associated Press Via ABC.