US Probing Autopilot Problems on 765,000 Tesla Vehicles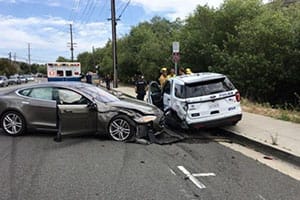 The Center for Auto Safety is the nation's premier independent, member driven, non-profit consumer advocacy organization dedicated to improving vehicle safety, quality, and fuel economy on behalf of all drivers, passengers, and pedestrians.
"We are glad to see NHTSA finally acknowledge our long standing call to investigate Tesla for putting technology on the road that will be foreseeably misused in a way that is leading to crashes, injuries, and deaths," said Jason Levine, executive director of the nonprofit Center for Auto Safety, an advocacy group. "If anything, this probe needs to go far beyond crashes involving first responder vehicles because the danger is to all drivers, passengers, and pedestrians when Autopilot is engaged."
By TOM KRISHER, AP Auto Writer
DETROIT (AP) — The U.S. government has opened a formal investigation into Tesla's Autopilot partially automated driving system after a series of collisions with parked emergency vehicles.
The investigation covers 765,000 vehicles, almost everything that Tesla has sold in the U.S. since the start of the 2014 model year. Of the crashes identified by the National Highway Traffic Safety Administration as part of the probe, 17 people were injured and one was killed.
NHTSA says it has identified 11 crashes since 2018 in which Teslas on Autopilot or Traffic Aware Cruise Control have hit vehicles at scenes where first responders have used flashing lights, flares, an illuminated arrow board or cones warning of hazards. The agency announced the action Monday in a posting on its website.
The probe is another sign that NHTSA under President Joe Biden is taking a tougher stance on on automated vehicle safety than under previous administrations. Previously the agency was reluctant to regulate the new technology for fear of hampering adoption of the potentially life-saving systems.