US probes crash involving Tesla that hit student leaving bus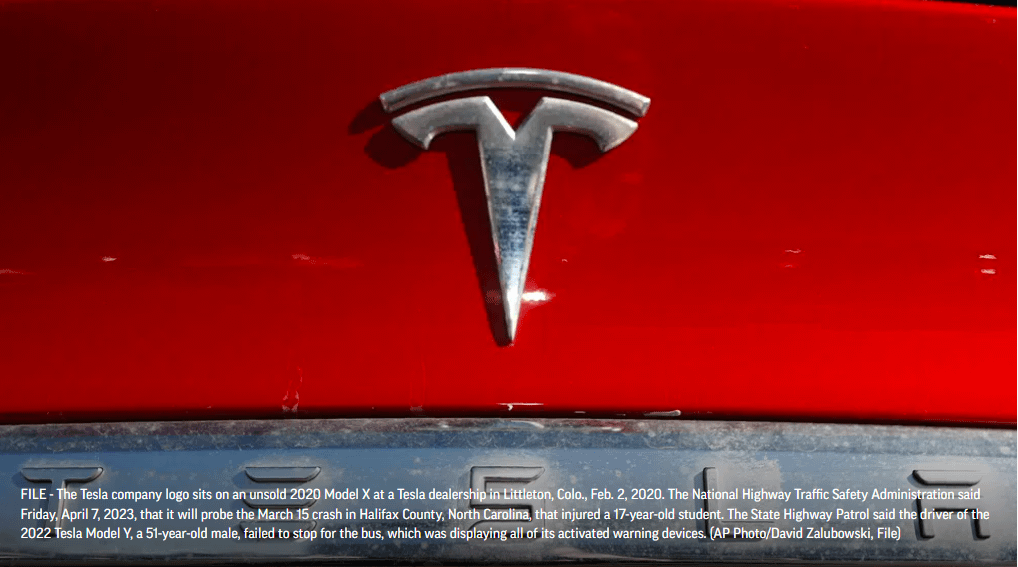 The Center for Auto Safety is the nation's premier independent, member driven, non-profit consumer advocacy organization dedicated to improving vehicle safety, quality, and fuel economy on behalf of all drivers, passengers, and pedestrians.
Tesla and NHTSA need to determine why the vehicles don't seem to see flashing lights on school buses and emergency vehicles and make sure the problem is fixed, said Michael Brooks, executive director of the nonprofit Center for Auto Safety in Washington.
By Tom Krisher
April 7, 2023
U.S. road safety regulators have sent a team to investigate a crash involving a Tesla that may have been operating on a partially automated driving system when it struck a student who had just exited a school bus.
The National Highway Traffic Safety Administration Friday that it will probe the March 15 crash in Halifax County, North Carolina, that injured a 17-year-old student. The State Highway Patrol said the driver of the 2022 Tesla Model Y, a 51-year-old male, failed to stop for the bus, which was displaying all of its activated warning devices.
Sending special investigation teams to crashes means that the agency suspects the Teslas were operating systems that can handle some aspects of driving, including Autopilot and "Full Self-Driving." Despite the names, Tesla says these are driver-assist systems and that drivers must be ready to intervene at all times.