US agency urges automakers to speed up Takata recalls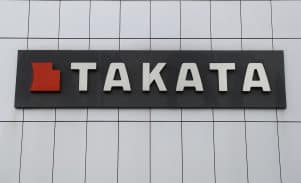 The Center for Auto Safety is the nation's premier independent, member driven, non-profit consumer advocacy organization dedicated to improving vehicle safety, quality, and fuel economy on behalf of all drivers, passengers, and pedestrians.
DETROIT — The U.S. government's road safety agency is urging automakers to speed up replacement of potentially dangerous Takata air bag inflators.
The National Highway Traffic Safety Administration said in a statement Friday that Heidi King, it's top official, has met with 19 affected companies urging them to accelerate the recalls and to post recall plans on their websites. The statement didn't say if automakers agreed to the request and NHTSA did not immediately answer messages left Friday.
Automakers missed a Dec. 31 deadline to replace 100 percent of the oldest and most dangerous inflators, and they have been slow to complete the recalls, which began more than 15 years ago. Automakers say it's difficult to get people to take their cars in for repairs, especially with older models.
Takata's inflators can explode with too much force and hurl shrapnel into drivers and passengers. At least 23 people have been killed and about 300 injured worldwide. The inflators have resulted in the largest series of auto recalls in U.S. history, covering 37 million vehicles and about 50 million inflators.
"It's imperative that manufacturers take every available step to reach each and every owner of a vehicle with deadly air bags and take action to ensure that those dangerous air bags are replaced as soon as is safely possible, King said in the statement.
Click here to read the full article from The Washington Post.