Unintended consequences: As big vehicles go electric, safety experts fear deadlier crashes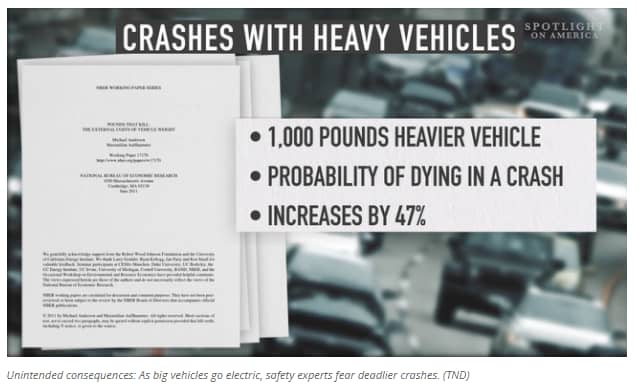 The Center for Auto Safety is the nation's premier independent, member driven, non-profit consumer advocacy organization dedicated to improving vehicle safety, quality, and fuel economy on behalf of all drivers, passengers, and pedestrians.
"The number one concern is those vehicles are already increasing the risk of severe injury and death," Michael Brooks, executive director of The Center for Auto Safety, told Spotlight on America.
By Angie Moreschi, Andrea Nejman, and Alex Brauer
March 8, 2023
WASHINGTON (TND) – America's push to convert vehicles to electric is leading down a path that could have unintended consequences. As bigger trucks and SUVs become electrified, they're also gaining weight, which could lead to more deaths and injuries on the road, and safety experts are sounding the alarm.
Millions of EVs are already on America's roadways, and sales are accelerating. Since President Joe Biden took office, EV sales have tripled, as the White House set an ambitious goal to have EVs make up at least 50% of new car sales by 2030.
That means all the major automakers are rushing to electrify their fleet, including their trucks and SUVs.
Click here to view the full story from Spotlight on America.