Thefts prompt 17 states to urge recall of Kia, Hyundai cars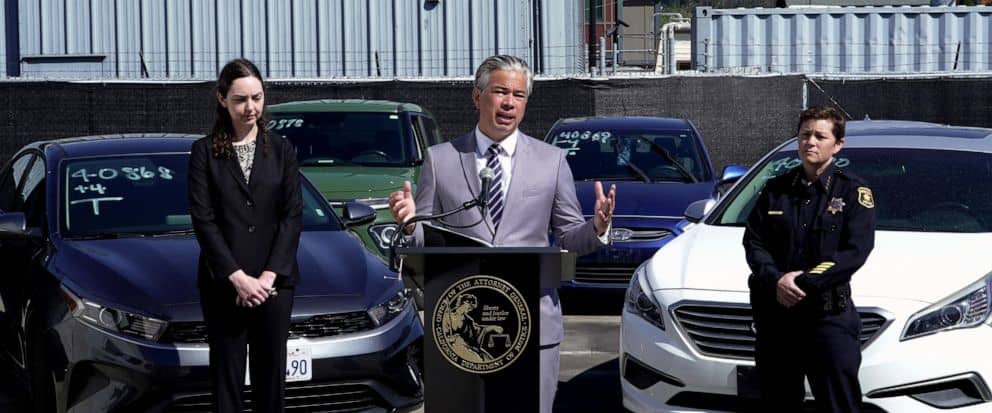 The Center for Auto Safety is the nation's premier independent, member driven, non-profit consumer advocacy organization dedicated to improving vehicle safety, quality, and fuel economy on behalf of all drivers, passengers, and pedestrians.
"Michael Brooks (Executive Director of the Center for Auto Safety) said NHTSA has been slow to react to auto thefts, even though the stolen Hyundais and Kias are causing safety problems on the roads."
By Adam Beam and Tom Krisher, Associated Press
April 20, 2023
Attorneys general in 17 states on Thursday urged the federal government to recall millions of Kia and Hyundai cars because they are too easy to steal, a response to a sharp increase in thefts fueled by a viral social media challenge.
Some Kia and Hyundai cars sold in the United States over the last decade do not have engine immobilizers, a standard feature on most cars that prevents the engine from starting unless the key is present.
Videos circulating on the social media service TikTok have shown how people can start Kia and Hyundai models by using only a screwdriver and a USB cable. In Los Angeles, thefts of Hyundai and Kia cars increased by about 85% in 2022, now accounting for 20% of all car thefts in the city, according to the California attorney general's office.
Click here to view the full story from the Associated Press, via ABC News.