Tesla Probe Puts Spotlight on Four-Year Vacancy at U.S. Watchdog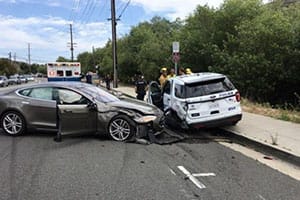 The Center for Auto Safety is the nation's premier independent, member driven, non-profit consumer advocacy organization dedicated to improving vehicle safety, quality, and fuel economy on behalf of all drivers, passengers, and pedestrians.
"NHTSA needs every advantage it can get when taking on the very powerful and influential auto industry and a Senate confirmed Administrator who can bring to bear all of the tools of the agency on behalf of consumers can be critical," Jason Levine, executive director of Center for Auto Safety, said.
By Lillianna Byington, Keith Laing
September 16, 2021
The federal regulator charged with keeping U.S. roads safe is now in its fourth year without a permanent administrator, and President Joe Biden hasn't nominated anyone as the agency undertakes a politically fraught investigation of Tesla Inc.
The absence of a Senate-confirmed leader could complicate the National Highway Traffic Safety Administration's effort to craft rules for a surge of driver-assistance technologies and other automotive features — some of which have been linked to deadly accidents.
The agency last month announced it was undertaking a formal investigation into Tesla's Autopilot system after almost a dozen collisions at crash scenes involving first-responder vehicles, stepping up scrutiny of a system safety groups had been complaining about for years.
Safety experts say its time for permanent leadership at the agency.