Sudden fires in Kias, Hyundais require congressional intervention, consumer group says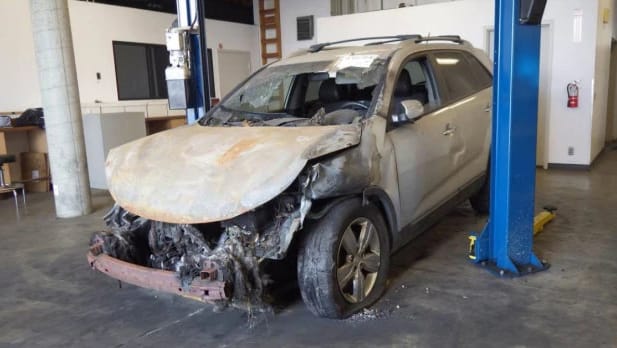 The Center for Auto Safety is the nation's premier independent, member driven, non-profit consumer advocacy organization dedicated to improving vehicle safety, quality, and fuel economy on behalf of all drivers, passengers, and pedestrians.
"Car fires can be deadly or cause serious injuries. Even in circumstances where luck provides victims a path to safety, car fires cause significant property damage, often leaving consumers owing money for a vehicle which has literally been burned to a crisp," said Jason Levine, executive director of the Center on Auto Safety in the letter to U.S. senators and House members on Wednesday, Feb. 27.
The sleek Hyundai Sonata was cruising westbound on the 405 when the driver suddenly smelled gasoline. Soon, dark smoke swirled from the hood.
The driver, from Pico Rivera, took the next exit. "Get out!" screamed another driver passing in the opposite direction. The driver leapt out and, within minutes, the Sonata was shrouded in smoke — and then exploded.
People poured out from surrounding businesses to see if the driver was hurt, and a rattled flower shop owner called the fire department, which rushed to douse the flames, said a complaint filed with the National Highway Traffic Safety Administration.
Click here to read the full article from the Orange County Register.