Couple's Hyundai Catches Fire on Maryland Road Amid Call for Investigation Into SUVs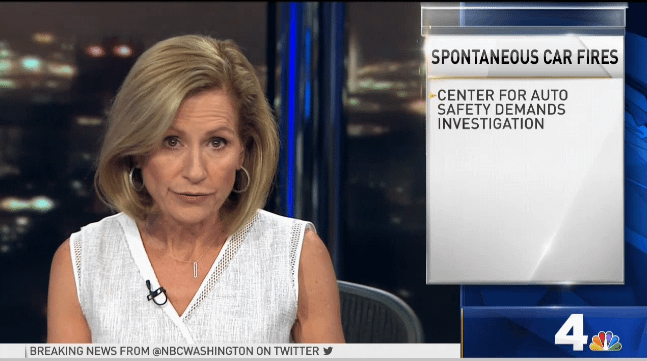 The Center for Auto Safety is the nation's premier independent, member driven, non-profit consumer advocacy organization dedicated to improving vehicle safety, quality, and fuel economy on behalf of all drivers, passengers, and pedestrians.
Monique Gooden is grateful that her parents, Walter and Jeanette Baker, are alive after their car burst into flames on a Maryland road — seemingly out of nowhere.
"I talked to my mom today and she is still in shock," Gooden said. "She still can't believe that this even happened."
Consumer watchdogs may not be as surprised. Their Hyundai Santa Fe SUV is among five Kia and Hyundai models from 2011 to 2014 linked to problems that consumer groups say could be fatal.
The Center for Auto Safety called upon federal investigators to probe the complaints after finding more than 200 examples of melting or smoking and 160 incidents of fires not caused by crashes. No recall has been issued.
Click here to read the full article from NBC Washington. 
Learn more about Kia and Hyundai non-crash fires.