Some Kia owners question anti-theft software fix after cars were stolen following upgrade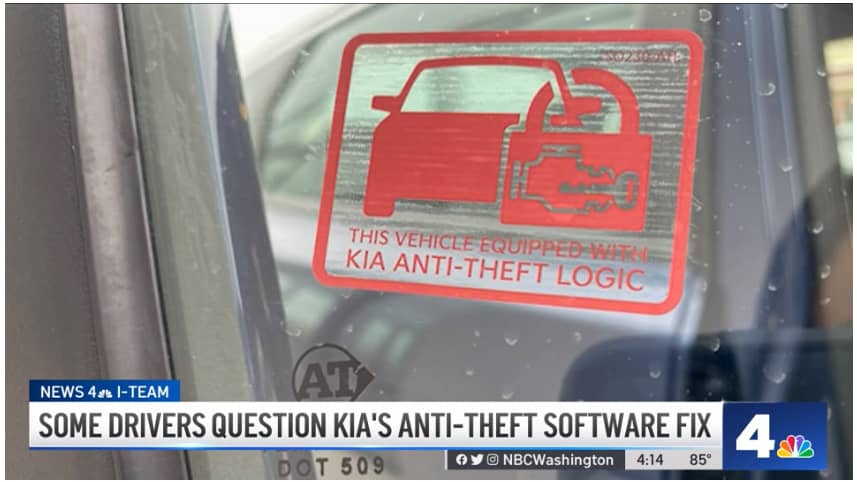 The Center for Auto Safety is the nation's premier independent, member driven, non-profit consumer advocacy organization dedicated to improving vehicle safety, quality, and fuel economy on behalf of all drivers, passengers, and pedestrians.
Michael Brooks, with the Center for Auto Safety, says these solutions aren't enough. He's among those calling for the feds to take action.

"Basically, they say there is a criminal act that has taken place that kind of lets Hyundai and Kia off the hook. We don't agree with that," Brooks said.
By Susan Hogan, News 4 Consumer Investigative Reporter, Katies Leslie, Jeff Piper, and Steve Jones
July 24, 2023
Marie Guerrero Pincheria and her husband, Jorge, don't have TikTok, but they certainly have heard of the viral "Kia Boyz" social media challenge linked to a rise in thefts of Kias and Hyundais nationwide.
That's why the Maryland couple booked an appointment at the dealership earlier this year when Kia offered a free fix: an anti-theft software it said would prevent thieves from hotwiring their car with a USB cord.
But just three months after having the software installed in their 2020 Kia Sportage – and anti-theft stickers placed on its windows – their car was stolen from outside their home.
"I was like, Kia, did you just put these stickers on or did you really do something? Or is the software not what you think it is?" Marie Guerrero Pincheria said.
She's among a handful of Kia owners interviewed by the I-Team who question whether the software fix is enough to protect their cars. Meanwhile, the manufacturer says the software, which requires vehicles to be locked to function properly, is working as designed.