Safety Advocates Say Hyundai, Kia's Anti-Theft Upgrade Doesn't Go Far Enough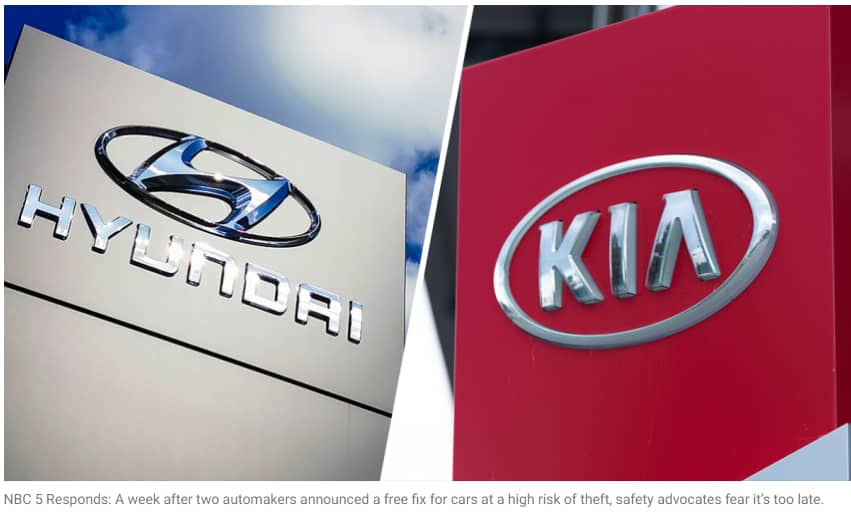 The Center for Auto Safety is the nation's premier independent, member driven, non-profit consumer advocacy organization dedicated to improving vehicle safety, quality, and fuel economy on behalf of all drivers, passengers, and pedestrians.
"Hyundai and Kia will not be obliged to notify their owners in the same way they would if it was a recall," Michael Brooks, Executive Director of the Center for Auto Safety told NBC 5. "My concern is you may not get the consumer participation in it that you would get if it was a recall."
By Lexi Sutter and Tom Jones
February 22, 2023
A potential solution is on its way for millions of Hyundai and Kia drivers whose vehicles are more vulnerable to theft, but safety advocates believe the free fix may have come too late and doesn't go far enough.
Both automakers Hyundai and Kia announced on Feb. 14 that drivers will be eligible for a free software upgrade that they hope will prevent certain vehicles' engines from starting without a key present, a security flaw that was exposed by thieves last year in several social media videos that went viral.
In the months following those social media posts, police departments in major cities across the U.S., including Chicago, saw a considerable increase in the number of Hyundai and Kia vehicles stolen, as well as crimes involving those stolen vehicles.
Federal regulators say the Hyundai and Kia theft wave has led to at least 14 accidents and eight deaths nationwide. Safety advocates fear those figures are a drastic undercount.