Center for Auto Safety Statement on Senate Hearing on Takata Airbags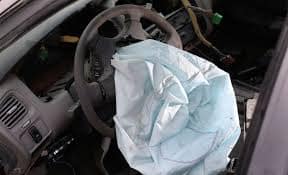 The Center for Auto Safety is the nation's premier independent, member driven, non-profit consumer advocacy organization dedicated to improving vehicle safety, quality, and fuel economy on behalf of all drivers, passengers, and pedestrians.
FOR IMMEDIATE RELEASE
March 20, 2018
Contact: Grace Garver, (202) 328-7700, [email protected]
Center for Auto Safety Statement on
This Afternoon's Senate Hearing on Takata Airbags
 
Ahead of the Senate Commerce Committee Hearing on the defective Takata Airbags, Jason Levine, executive director of the Center for Auto Safety released this statement:
"Installing defective, dangerous airbags was bad enough. This defective, disorganized, and dysfunctional recall makes a tragic condition even worse. It is long past time for Congress to demand these companies immediately locate and replace every airbag in every car that needs repair.
Almost a decade after Takata airbags started killing people, consumers are confused and scared, car companies are stalling, and the federal agency responsible for safety seems a distant observer. Defective Takata airbag inflators are responsible for at least 
23 deaths worldwide
, including 16 in the U.S., hundreds of horrific injuries, and necessitated the largest automotive recall in modern history. In 1998, to save a few pennies on each inflator, Takata chose to use ammonium nitrate, which degrades over time in airbags instead of tetrazole. But rather than saving money, Takata lost hundreds of millions of dollars and went bankrupt.
Yet, only a bare handful of the Takata executives responsible for this corporate malfeasance have been held criminally accountable, while the 19 automakers that installed Takata inflators have set a new standard for incompetence and indifference in a recall. This epic failure by the auto industry has led to yet another congressional hearing. Today's hearing should be welcomed by the owners of the 37 million vehicles under recall equipped with Takata airbag inflators and also by the owners of vehicles with the 10-15 million additional airbag inflators yet to be recalled.
Even now, most impacted people have no idea their airbags could kill them, or whether their cars have been recalled, because not all consumers have been notified. Federal law requires a manufacturer to find you if your car is defective, yet 18 million airbags remain unrepaired. Many consumers, when finally receiving notice, find replacement parts are unavailable. Worse, most consumers are sent home in the same vehicle with the defect.
Recalling and replacing millions of airbags isn't simple. But, some simple steps could improve the process. Manufacturers should be required to track down vehicle owners, via email, or otherwise. Car companies seem to manage this feat when trying to sell warranty upgrades. Congress should insist that whenever a repair is unavailable, manufacturers reimburse dealers for providing a loaner vehicle. Finally, NHTSA must reexamine all Takata recall extensions and rule on the pending petitions.
It is unconscionable that millions of consumers are left in the dark about whether they take their lives in their hands with each commute because of a ticking time bomb in their dashboard."
Learn more
 about the Center's calls for increased oversight of Takata airbag recalls. 
##
Over the last 48 years, the Center for Auto Safety has successfully led the fight for lemon laws in every state, airbags in every vehicle, and recall repairs being made at no cost to the consumer. The Center is a membership-driven organization headquartered in Washington, DC and is also home to the Safe Climate Campaign, which fights global warming by working for big, specific measures to reduce greenhouse gas emissions. The Center is also the publisher of The Car Book, which has for the last 38 years been America's most comprehensive car buying guide. To learn more about the Center, please visit 
www.AutoSafety.org
.