Questions after fires in Kia & Hyundai vehicles: Sorentos, Optimas, Santa Fes and Sonatas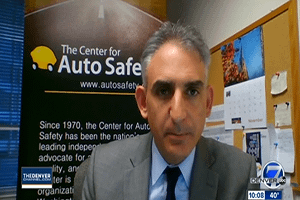 The Center for Auto Safety is the nation's premier independent, member driven, non-profit consumer advocacy organization dedicated to improving vehicle safety, quality, and fuel economy on behalf of all drivers, passengers, and pedestrians.
"What we started seeing here is a pattern, which is unusual, that no crash was involved and there were a lot of them happening in the two manufacturer's models — Hyundai and Kias," Jason Levine said.
He said the problem is so extreme the government should force a massive recall of 3 million cars. So far, the National Highway Traffic Safety Administration (NHTSA) has not required recalls, but he is hopeful.
He says the vehicles his organization is most concerned about are: 2011-2014 Kia Sorentos and Optimas and Hyundai Santa Fes and Sonatas.
He's also worried about Kia Souls from 2010 through 2015.
"We started finding reports about just one every day for a four-month period," Levine said.
Kia and Hyundai have recalled some cars for engine debris that Kia says can contribute to a fire — but Levine says some repaired cars have still caught fire.
Click here to read the full article from ABC Denver.