Post Office Fiddles While Its Mail Trucks Burn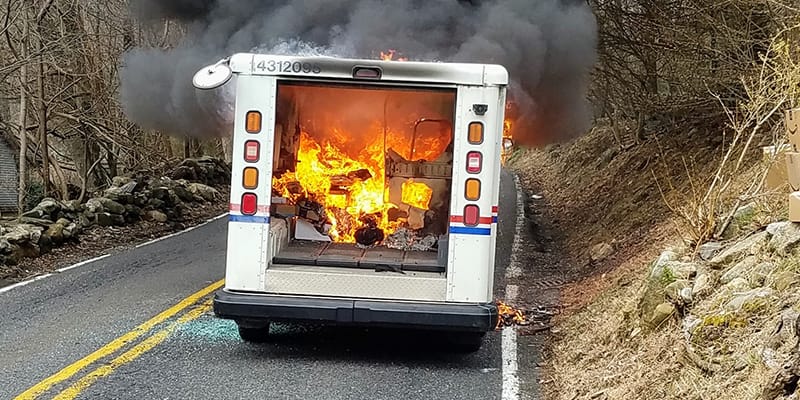 The Center for Auto Safety is the nation's premier independent, member driven, non-profit consumer advocacy organization dedicated to improving vehicle safety, quality, and fuel economy on behalf of all drivers, passengers, and pedestrians.
Jason Levine, who heads the Center for Auto Safety, told Trucks.com that the Postal Service should take action – and quickly.
"This is not a place to be pennywise and pound foolish," Levine said.
His organization would file a petition seeking an investigation with the NHTSA if the LLV were a passenger car. But so far, it has not done so. The Center for Auto Safety acts on complaints filed by consumers with the NHTSA. That's how it gets data to support its arguments. People who drive for fleets, such as letter carriers, rarely file complaints about their vehicles with the government. They figure they don't own them, so who cares. Or employees fear complaints will endanger their employment.
"It makes it difficult to gather the statistical database case that we would normally use to put together a defect investigation," Levine said.
But, Levine said, something must be done.
Letter carriers should start filing complaints with the NHTSA every time there is an LLV fire or safety issue. They can do so here. They should also contact the Center for Auto Safety. That will produce the data need to force federal safety officials and the Postal Service to act.
"Waiting for them to be replaced over the next five to 10 years is not a solution," Levine said.
Mail trucks are burning at an alarming rate, and the only people who seem to think it's a problem are the letter carriers who must drive the aging vehicles.
Twenty-six of the U.S. Postal Service's aging Grumman LLV delivery trucks have caught fire so far this year, according to a tally by Postal Times. That makes 145 since 2014. If the mail truck were a vehicle model that consumers purchased from a dealer, the National Highway Traffic Safety Administration would have long ago launched an investigation and issued a recall.But neither the NHTSA nor auto safety groups are addressing this safety issue with the same attention they would if fires were burning up Ford pickup trucks or Toyota sedans. Trucks.com has followed this problem for several years, and we hear the same sad statement from letter carriers: It will take a death or severe injury to force the Postal Service to act.
Click here to read the full article from Trucks.com.