One-fifth of inspected commercial vehicles in Texas deemed unsafe

The Center for Auto Safety is the nation's premier independent, member driven, non-profit consumer advocacy organization dedicated to improving vehicle safety, quality, and fuel economy on behalf of all drivers, passengers, and pedestrians.
By HARVEY RICE, HOUSTON CHRONICLE
Updated 09:49 p.m., Thursday, November 17, 2011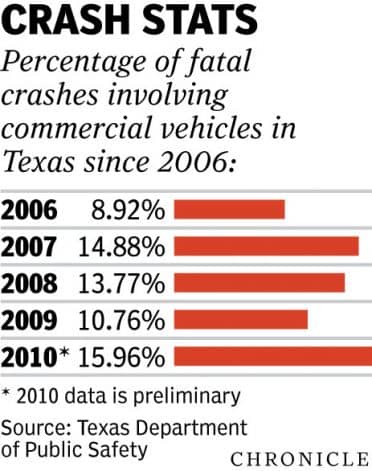 Texas inspectors pulled one out of five commercial vehicles – including 18-wheelers and buses – off the road this year because they were unsafe, posing a potentially dangerous risk to an untold number of drivers and passengers in the state.
The Department of Public Safety said Thursday that of 331,505 commercial vehicles inspected since Jan. 1, 66,189 were deemed unsafe. Inspectors also removed from the road 12,301 commercial drivers for safety violations, DPS director Steven McCraw said.
"Commercial vehicles are responsible for approximately 15 percent of the fatalities in Texas crashes," McCraw said. "Those who choose to drive unsafe commercial vehicles or drive a commercial vehicle unsafely pose a serious threat to the motoring public."
Trucking organizations said long-haul trucking has become increasingly safer during the last four years, an assertion questioned by Public Citizen, a consumer watchdog group based in Washington, D.C., that has sued the U.S. Department of Transportation in the past over truck safety regulations.
The national rate was 24 percent for inspected vehicles taken out of service in 2006, the latest available data from the U.S. Federal Motor Carrier Safety Administration.
"I consider 20 percent a very large number," said Joan Claybrook, a member of the Public Citizen board. "If 20 percent of airplanes were put out of service in the United States, do you think anybody would travel by air?"
DPS was unable to immediately provide further commercial vehicle statistics, including a breakdown of its inspection numbers and the number of vehicles and drivers taken off the road in previous years.
DPS spokeswoman Lisa Block said the most common violations by drivers were failing to log their hours properly and problems with their driver's licenses.
The most common mechanical problems were with brakes, tires and lights, she said.
John Esparza, president of the Texas Motor Transportation Association, said companies in his organization take safety measures that make it unlikely they contribute significantly to the 20 percent of vehicles that have been taken out of service.
"I like to think that because of what we are doing, that the rate is different for our members," Esparza said.
Norita Taylor, spokeswoman for the Owner Operator Independent Drivers Association based in Missouri, said, "Highway safety has actually improved greatly as far as long-haul trucking in recent years as we have seen a reduction in truck-related crashes, and that is supported by data from (the U.S. Department of Transportation)."
Working long hours
Claybrook attributed any drop in crash numbers to the economic downturn. "There is just less driving going on," she said.
Companies pay truck drivers by the mile instead of by the hour, so they typically drive as far and as fast as they can, she said. Drivers are often forced to work 14-hour days, 11 hours driving and three hours loading or unloading, Claybrook said.
Drivers in many cases are not paid overtime, meaning they are not paid for handling the cargo. "All the incentives are built to work these drivers to death," she said.
Drivers often keep two log books, one for their paycheck and the other to show law enforcement to hide their long hours, Claybrook said.
"If they crash, the first thing you see is the driver throwing the books out the window," she said.
Between 30 percent and 40 percent of truck accidents are caused by fatigue, Claybrook said, citing National Transportation Safety Board figures.
DPS Major David Palmer said most truck and bus companies are obeying safe practices.
"I can think of a lot of carriers out there working hard to do the right thing and follow all the rules, but you are always going to have folks who try to shortcut the system," he said.
Texas led the nation in the number of commercial vehicle-related deaths over the past four years, Palmer said, although he was not immediately able to obtain the numbers. Palmer said Texas' size explained the high number of fatalities.
Hundreds in S. Texas
Commercial vehicles in Texas traveled 20.86 billion miles in 2008, he said, citing Federal Highway Administration figures.
The DPS targets specific areas for inspections of trucks and buses under its Operation Texas Thunder enforcement effort, McCraw said. One such operation in McMullen County, south of San Antonio, was staged in response to local complaints and put 64 percent of inspected vehicles out of service.
Another Texas Thunder operation in the Corpus Christi area issued 400 citations and put 206 vehicles out of service, McCraw said.