On Second Anniversary of NHTSA Investigation into Carbon Monoxide Leaks in 2011-2017 Ford Explorers Center for Auto Safety Renews Call for Ford Recall Based on Consumer Complaints the Ford "Fix" Does Not Work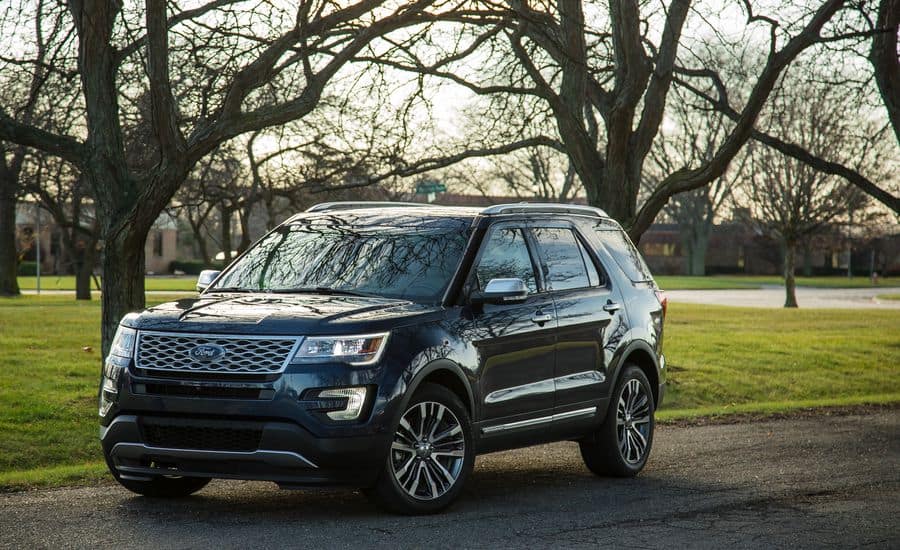 The Center for Auto Safety is the nation's premier independent, member driven, non-profit consumer advocacy organization dedicated to improving vehicle safety, quality, and fuel economy on behalf of all drivers, passengers, and pedestrians.
FOR IMMEDIATE RELEASE
July 2, 2018
Contact: Jason Levine, (202) 328-7700, [email protected]
On Second Anniversary of NHTSA Investigation into Carbon Monoxide
Leaks in 2011-2017 Ford Explorers
Center for Auto Safety Renews Call for Ford Recall
Based on Consumer Complaints the Ford "Fix" Does Not Work
Washington, D.C.—Today, on the second anniversary of NHTSA's opening an investigation into occupant exposure to exhaust and carbon monoxide in 1.3 million Ford Explorers (MY 2011-2017), NHTSA has failed to complete its investigation and Ford has failed to fix the problem. Based on the extraordinary danger posed by prolonged exposure to exhaust fumes and the repeated complaints from consumers that despite receiving the repair are still being exposed, the Center for Auto Safety has sent a letter to Ford Motor Company CEO Jim Hackett, asking for a recall before tragedy strikes.
In the nine months since Ford's Customer Satisfaction Program (CSP-17N03) was released stating that the vehicles were "safe," Ford continues to refuse to acknowledge that there is any danger relating to exhaust fumes being regularly inhaled in the interior of these vehicles, stating that Carbon Monoxide levels do not "exceed what people are exposed to every day." Yet for "peace of mind" Ford offered a no-cost service reducing the potential for exposure for MY 2011-2017 Explorers. However, it appears many Ford owners are far from "satisfied." Ford owners continue to file complaints with NHTSA about exposure to exhaust and carbon monoxide in their Explorers. Scores of consumers, even after receiving their "peace of mind" fix, continue to report experiencing the same symptoms as before their visit to the Ford dealership.
"With all due respect to the efforts undertaken by Ford, and NHTSA, over these last two years, the continued complaints and corresponding reports of incidents and injuries demonstrate the problem of Carbon Monoxide exposure inside Ford Explorers has not been resolved," said Jason Levine, Executive Director of the Center for Auto Safety.  Based on the number of new complaints NHTSA has received, the problem seems to continue in MY 2018 Explorers, suggesting that the issue apparently has not been designed out of the vehicle. We urge NHTSA and Ford, on behalf of Ford's customers, and everyone with whom they share the road, to act before tragedy strikes."
According to the Centers for Disease Control, excess exposure to CO is responsible for more than 400 deaths annually in the U.S. Carbon Monoxide poisoning is often referred to as a "silent killer" because, unless mixed with other gases, it is odorless. What makes the exposure so dangerous is that the symptoms (loss of consciousness, nausea, headaches, or light headedness) mimic flu-like symptoms and therefore delay accurate diagnosis of the root cause of the injury – elevated levels of CO in the victim's blood. Further, as the victim is often unaware of the immediate cause of their injury, CO exposure can be an unsuspected culprit when no expected source is recognizable, leading to underreporting of incidents. It is easy to imagine a roadside crash caused by CO exposure resulting in a serious injury or fatality being written off as "drowsy driving."
Appropriately, the Ford Explorer Owner's Manual contains the following warning: "Do not drive your vehicle if you smell exhaust fumes. Carbon monoxide is present in exhaust fumes. Take precautions to avoid its dangerous effects." Yet, in response to reports of exactly this circumstance since at least 2012, Ford refuses to properly protect its customers.
In July 2017, NHTSA indicated the most likely culprit for the exposure of Ford consumers to potentially lethal amounts of Carbon Monoxide was cracked exhaust manifolds. Nonetheless, Ford issued a Customer Service Program (CSP-17N03) focused on less expensive and potentially less effective repairs such as reapplying weather sealant and reprogramming the climate control in order to give customers "peace of mind" but stated the "vehicles are safe." The CSP did not vary dramatically from previous technical bulletins Ford has quietly been issuing since 2012 to address the same issue. (See: TSB 14-0130, and TSB 16-016.)
 
In the intervening months, the Center for Auto Safety has continued to be contacted by Ford customers experiencing symptoms related to CO exposure in their Explorers. Some had brought their Explorers in to dealerships to receive repairs prior to the issuance of CSP-17N03. Others brought their Explorers in afterwards. In some instances, consumers report they are being charged for repairs related to this hazard. Recall repairs must be free under federal law.
Below are samples of 5 complaints from consumers after they received the Ford "fix" for this problem. In total, NHTSA has received more than 1500 complaints regarding exhaust fumes leaking into 2011-2018 Explorers:
Ford Customer in Jenison, MI, owns a 2012 Explorer. After experiencing an odor and feeling nauseous and dizzy, the consumer brought the vehicle to dealer "on three separate occasions to have the voluntary Ford exhaust campaign completed." The consumer is still experiencing the exhaust odors and medical symptoms associated with elevated CO exposure.
Ford Customer in Las Cruces, NM, owns a 2013 Explorer. The vehicle has been serviced for CO entering the cabin under Ford's CSP-17N03 on two separate occasions. Still, the consumer smells exhaust in the cabin and his/her personal CO monitor is picking up unsafe levels of CO in the vehicle. Additionally, the consumer will not place his/her one-year-old child in the car for fear of CO exposure.
Ford Customer in Windsor, MD, owns a 2015 Explorer. Two months after having the vehicle serviced at a Ford dealership for CO, the customer again began experiencing strong CO odors in the cabin and suffering headaches. When the customer called the dealership to schedule another repair, the dealership informed the customer that they would charge $138 for a diagnostic evaluation.
Ford Customer in Porter, TX, owns a 2014 Explorer. After receiving a letter from Ford concerning CO in the cabin, the consumer brought the vehicle to a Ford dealership to repair the issue. The consumer states that the issue is now worse, and that the two CO detectors in the vehicle indicate unsafe levels of CO within minutes of driving. Additionally, when the consumer and his/her family ride in the vehicle they suffer headaches.
Ford Customer in Westminster, MD, owns a 2016 Explorer. Two months after having the vehicle serviced under the CSP-17N03, symptoms of CO exposure persisted. Upon bringing the vehicle back to the service center, two additional leaks were found. Ford initially refused to cover the cost of the repair, and only after five days of hassle did Ford agree to pay 80%.
Read our letter to Ford CEO Jim Hackett here.
##
Over the last 48 years, the Center for Auto Safety has successfully led the fight for lemon laws in every state, airbags in every vehicle, and recall repairs being made at no cost to the consumer. The Center is a membership-driven organization headquartered in Washington, DC and is also home to the Safe Climate Campaign, which fights global warming by working for big, specific measures to reduce greenhouse gas emissions. The Center is also the publisher of www.TheCarBook.com, which has for the last 38 years been America's most comprehensive car buying guide. To learn more about the Center please visit www.AutoSafety.org.