NTSB's Homendy Expected to Be a Tesla Watchdog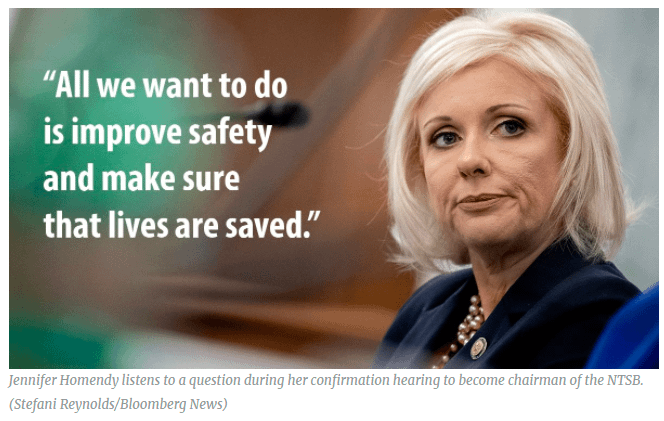 The Center for Auto Safety is the nation's premier independent, member driven, non-profit consumer advocacy organization dedicated to improving vehicle safety, quality, and fuel economy on behalf of all drivers, passengers, and pedestrians.
In the years since joining the agency, Homendy has gained a reputation for being a dogged safety advocate, said Jason Levine, executive director of the Center for Auto Safety. "There's no doubt of the sort of continued relentless attitude she's going to bring to the position. She will not simply give up if at first there's limited success in convincing those of regulatory authority to act."
By Riley Beggin
September 7, 2021
Federal regulators last month officially opened an investigation into crashes involving Tesla Inc.'s Autopilot system. Jennifer Homendy, the new leader of the government's transportation safety watchdog, hopes that's just the beginning.
The 49-year-old was sworn in Aug. 13 as the new leader of the National Transportation Safety Board, an independent agency responsible for investigating transportation accidents and issuing recommendations to improve safety.
For years, the board has raised alarms about problems with driver monitoring and marketing for low-level automation in cars, technology known as advanced driver assistance systems (ADAS) that can help drivers navigate traffic but requires them to be fully alert at all times.