Mother watches son burn to death in Kia fire, calls for answers from car maker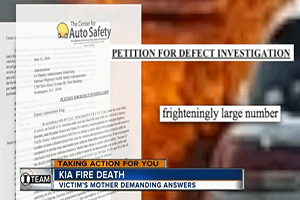 The Center for Auto Safety is the nation's premier independent, member driven, non-profit consumer advocacy organization dedicated to improving vehicle safety, quality, and fuel economy on behalf of all drivers, passengers, and pedestrians.
The Center for Auto Safety petitioned federal regulators to launch a safety defect investigation after our story aired in May.  The Washington, D.C. watchdog is now calling for an investigation into the Kia Soul fires. The Kia that Keith Nash died in is one of 29 reported fires in Kia Souls sold between 2010 and 2015. 
Keith Nash never made it out of the parking lot of his mother's apartment complex.
The 48-year-old man burned to death after getting into his Mother's 2014 Kia Soul just outside Cincinnati last year.
Carol Nash heard her sons' screams for help.
"I would not wish that on anybody," she said.
Carol raced toward the burning car but could not get close enough to help her firstborn.
"It was so hot, I couldn't get him out of the car without probably killing myself."
Click here to read the full article from ABC Action News. 
Learn more about Kia and Hyundai non-crash fires.