More spontaneous fires reported in some Kia, Hyundai vehicles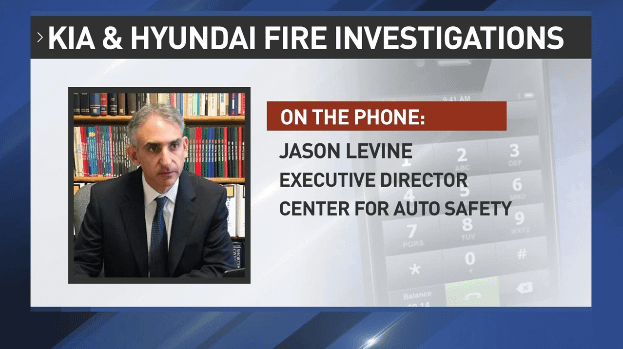 The Center for Auto Safety is the nation's premier independent, member driven, non-profit consumer advocacy organization dedicated to improving vehicle safety, quality, and fuel economy on behalf of all drivers, passengers, and pedestrians.
"It is certainly more than 280. Sometimes we'll see that's a number that should be 2 or 3 times that number. Sometimes it can be 10 or 50 times that number. It really varies," explains Jason Levine, executive director for the Center for Auto Safety.
"Our concern is good for Hyundai and Kia for doing a small recall, but there's a much larger universe of vehicles — somewhere in the millions — that they've chosen not to recall that continues to put drivers of vehicles at the same risk as those for whom they issued the recall," says Levine.
"There's both a production issue with respect to these engines and there's clearly also an installation on the repair issue that Hyundai and Kia need to address," says Levine.
Nearly seven months later, Mark King is still waiting to find out why his parked 2011 Kia Sorrento burst into flames and nearly burned his house down in July. It's a story we first told you about in October.
"One investigator had mentioned he'd never seen a car fire where the roof of the car had a hole burned through it," King says…
Click here to read the full article from CBS Austin.