Moon roof shatters in car wash in San Tan Valley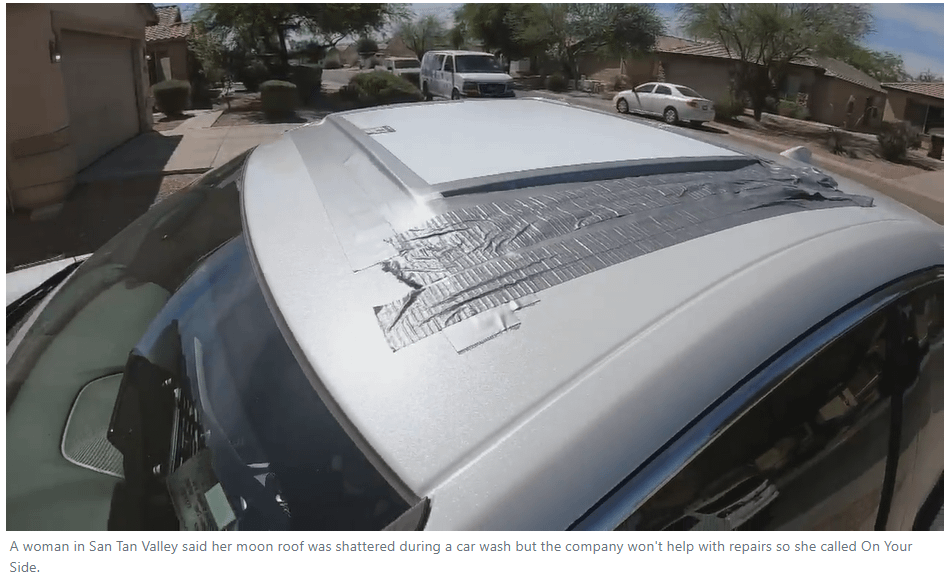 The Center for Auto Safety is the nation's premier independent, member driven, non-profit consumer advocacy organization dedicated to improving vehicle safety, quality, and fuel economy on behalf of all drivers, passengers, and pedestrians.
"They couldn't find a specific design defect, and they really weren't able to point their finger at a particularly bad manufacturer, so it appears it is something that's just going to happen," said Michael Brooks, the acting executive director of the Center for Auto Safety. According to Brooks, crashes and other major safety issues haven't been linked to shattering moon roofs. "Unlike your front windshield where it's laminated glass, this is the safety glass that's meant to shatter and not cut you," Brooks said.
By Susan Campbell
August 8, 2022
It was just a quick drive through the car wash. Denise DeMarco had taken her car to the same Cobblestone Auto Spa location several times, but this time was different. "When I got to the dryer section, I heard what sounded like a gunshot going off in my car, and then all of the air started pushing in through my sun shade," DeMarco said.
She recorded video of the incident from the car wash's surveillance system. "[The moon roof] just blows up into thousands and thousands of pieces," she said. "Just seeing the glass going everywhere is really scary to think what could have happened if I had that sun shade open." It's unclear what caused DeMarco's moon roof to shatter. There have been reports of moon roofs spontaneously shattering that federal safety regulators have investigated.
Click here to view the full story from KOLD News 13, Tuscon.