'I'm furious': Consumer claims vehicle recall service not enough to keep family safe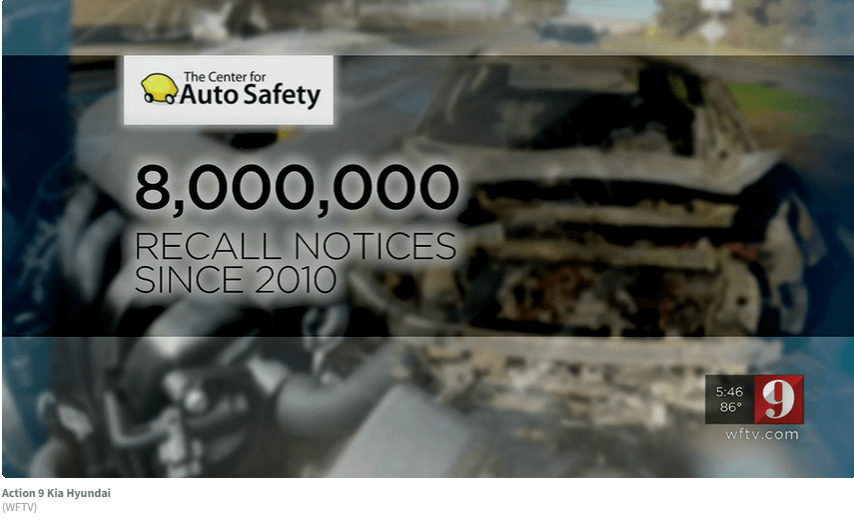 The Center for Auto Safety is the nation's premier independent, member driven, non-profit consumer advocacy organization dedicated to improving vehicle safety, quality, and fuel economy on behalf of all drivers, passengers, and pedestrians.
By Jeff Deal, WFTV.com
September 14, 2022
"So many consumers who have these vehicles and the engines are just failing, and they're left effectively without a vehicle. It's a consumer nightmare in that respect," said Michael Brooks with the Center for Auto Safety.
ORLANDO, Fla. — Recent safety recalls involving Kias and Hyundais add to a long list of warnings Action 9 has seen over the past decade about certain models catching fire.
Consumer reporter Jeff Deal spoke with a family that fears putting their loved ones in their Hyundai, claiming the recall repair on their Kona hasn't gone far enough.
"My car is on fire." Ronni Rivera of central Florida can be heard on the video she took of her Kia Sorrento up in flames. Rivera felt lucky to be alive. "I heard a strange noise and got out. God is good."
Jordan Carlton lost his life after suffering severe burns when the Kia Soul he rented caught fire while driving down the road.
Over the past decade, Kia and Hyundai have been plagued with recalls and incidents involving vehicle fires.