Hyundai Engine Recall Follows 45 Engine Fires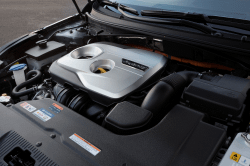 The Center for Auto Safety is the nation's premier independent, member driven, non-profit consumer advocacy organization dedicated to improving vehicle safety, quality, and fuel economy on behalf of all drivers, passengers, and pedestrians.
The Hyundai engine recall is the result of a June 2018 petition to the National Highway Traffic Safety Administration (NHTSA) submitted by the Center for Auto Safety. The Center said NHTSA should investigate non-crash fires in 2011-2014 Kia Optima and Sorento, and 2011-2014 Hyundai Sonata and Santa Fe vehicles.
By David A. Wood
September 24, 2021
A Hyundai engine recall follows at least 45 fires and affects more than 130,000 model year 2017 Tucson and Sonata Hybrid vehicles which may be at risk of engine stall, damaged engines or fires.
The 2017 Tucson and Sonata Hybrid are equipped with 2.0-liter "Nu" GDI engines produced by Hyundai's engine plant in Ulsan, South Korea.
According to Hyundai, the connecting rod bearings inside the engine may wear prematurely which results in abnormal knocking noise from the Nu engine and illumination of the oil pressure warning light. Continuing to drive the vehicle could damage the engine and cause it to stall.