Hyundai and Kia recall nearly 3.4 million vehicles due to fire risk and urge owners to park outdoors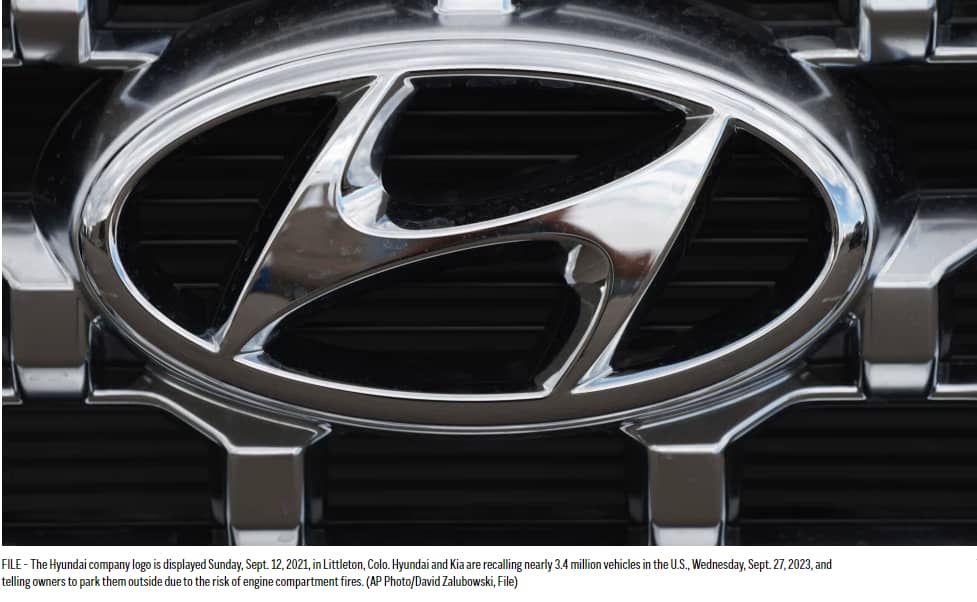 The Center for Auto Safety is the nation's premier independent, member driven, non-profit consumer advocacy organization dedicated to improving vehicle safety, quality, and fuel economy on behalf of all drivers, passengers, and pedestrians.
"Michael Brooks, executive director of the nonprofit Center for Auto Safety, questioned why the companies aren't fixing the leak problem and why they are waiting so long to send letters to owners.

The remedy is replacing one fuse with another, but brake fluid can still leak, potentially causing a safety problem, Brooks said."
By Tom Krisher
September 27, 2023
Hyundai and Kia are recalling nearly 3.4 million vehicles in the U.S. and telling owners to park them outside due to the risk of engine compartment fires.
The recalls cover multiple car and SUV models from the 2010 through 2019 model years including Hyundai's Santa Fe SUV and Kia's Sorrento SUV.
Documents posted Wednesday by the U.S. National Highway Traffic Safety Administration say the anti-lock brake control module can leak fluid and cause an electrical short, which can touch off a fire while the vehicles are parked or being driven.
The automakers are advising owners to park outdoors and away from structures until repairs are done.
Dealers will replace the anti-lock brake fuse at no cost to owners. Kia says in documents that it will send notification letters to owners starting Nov. 14. For Hyundai the date is Nov. 21.
Click here to view the full story from the Associated Press.