Goodyear CEO Learned About Deadly RV Tire Failures As Early As 2008, Court Docs Suggest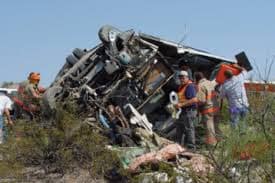 The Center for Auto Safety is the nation's premier independent, member driven, non-profit consumer advocacy organization dedicated to improving vehicle safety, quality, and fuel economy on behalf of all drivers, passengers, and pedestrians.
Jason Levine, the Center for Auto Safety's executive director, said the new documents "confirm our long-held belief that Goodyear has been hiding deadly incidents involving their tires from the public and the U.S. government for many years."
"Yet, our fight to bring full transparency regarding the dangers of the G159 tires, and the unconscionable actions of Goodyear up until this point, will continue," Levine said. "Far too many documents remain under seal, and until the Arizona appeals court upholds the trial court's ruling in our favor to release these documents and protect consumers, there is simply no way for anyone to be sure that Goodyear is not hiding more lifesaving information."
U.S. regulators want to find out which Goodyear officials were involved in assessing a possible defect in an RV tire that's linked to at least 10 deaths and dozens of injuries. Newly-released documents obtained by Jalopnik provide an answer for Goodyear CEO Rich Kramer: he personally approved settlements of cases involving the dangerous tire failures as early as 2008, in filings that laid out the vast amount of complaints Goodyear had received over the tire.
The revelation was tucked away in billing records filed in an ongoing federal case involving the tire, the G159 275/70R 22.5. Kramer was named CEO of the whole company in 2010, but back in June 2007, when Kramer was President of the company's North American unit, he was set to meet with one of Goodyear's attorneys to discuss a case involving a Fleetwood RV that crashed after the vehicle's left front tire separated. The crash left two of the vehicle's six occupants dead…
Click here to read the full article from Jalopnik.