Used Car Roulette: The Fight Against the Advertising and Sale of Recalled Used Cars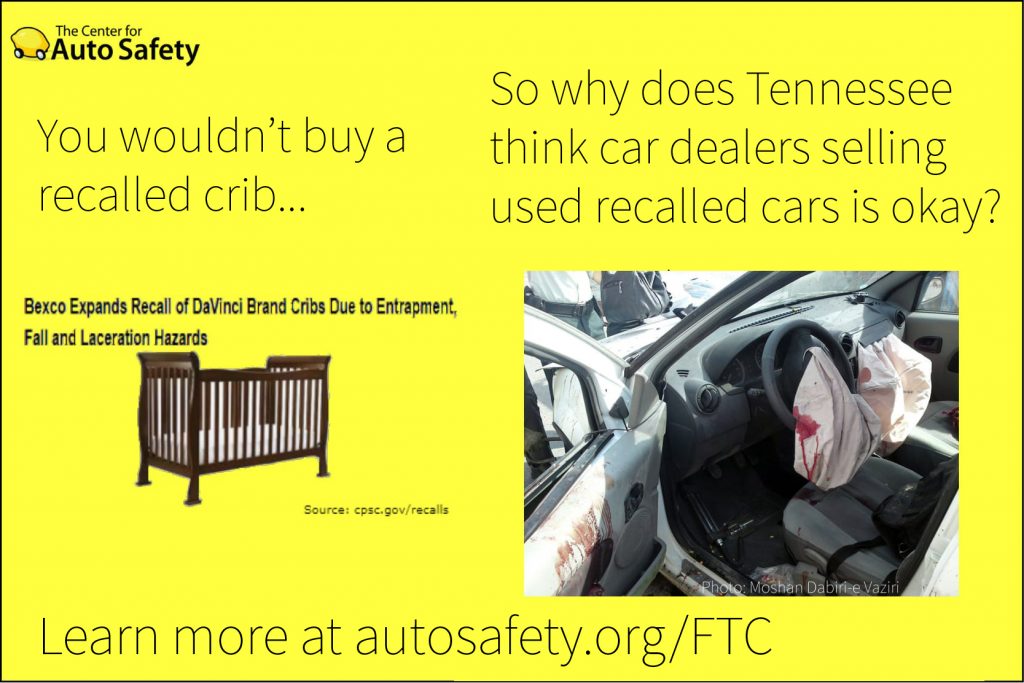 **UPDATE**
December 19, 2017
Center for Auto Safety today joined other consumer groups highlighting a new, unprecedented Tennessee law, sneaked through in the waning hours of the legislative session, that will take effect January 1, 2018 making it easier for auto dealers to get away with charging top dollar for recalled used cars with lethal safety defects.  "Tragically, Tennessee's new law is likely to result in more dealers in that state engaging in 'recalled used car roulette,'" said Jason Levine, Executive Director of the Center for Auto Safety. "Buying a used car should never mean you are putting your life, and the lives of your family, at risk." Learn more about how unpopular the idea of selling unrepaired recall cars is in Tennessee: here.
September 28, 2017
USED CAR ROULETTE: CarMax Doubles Down on Selling Cars Under Recall
New report finds 27% of surveyed CarMax vehicles for sale had Unrepaired Recalls
One CarMax "Certified" vehicle had 6 safety defects under recall
Today, the Center for Auto Safety is proud to partner with the Consumers for Auto Reliability and Safety (CARS) Foundation, and the MASSPIRG Education Fund in releasing a new report showing that since 2015, the nation's largest retailer of used cars, CarMax, has more than doubled the percentage of recalled used cars for sale to consumers, based on recent surveys of nearly 1,700 vehicles at 8 locations in California, Connecticut, and Massachusetts. The dangerous and unsafe defects on these cars advertised for sale included Takata airbags and GM ignition switches, both of which have been linked to multiple deaths.
"Recalls happen when there is an unreasonable safety risk or the car fails to meet a safety standard. Data documenting these defects is readily available to CarMax which makes calling an unrepaired recalled car 'safe' is deceptive on its face," said Jason Levine, Executive Director of the Center for Auto Safety, an independent, non-profit consumer advocacy organization based in Washington, DC. Similar results are to be expected at other auto dealer groups across America who continue to advertise and sell used cars with unrepaired recalls as inspected, certified vehicles. "As the Federal Trade Commission has said, all safety recalls pose safety risks and, left unrepaired, might lead to accidents. These safety risks are why we will continue our fight in court to stop these types of deceptive advertising practices from being condoned in the FTC's misguided consent orders approved last year."
#    #    #
Report- Used Car Roulette: CarMax Doubles Down on Selling Unsafe Recalled Vehicles
Related Content
CAS, CARS, and USPIRG File U.S. District Court Complaint Challenging FTC Consent Orders on Certified Used Vehicles with Open Recalls – 3/24/17
Auto Safety / Consumer Organizations Sue Federal Trade Commission Over Decision Allowing General Motors and Car Dealerships to Engage in False Advertising of Unrepaired Recalled "Certified" Used Cars – 2/6/17
Click here to view the Petition for Review – 2/6/17
CAS Press Release: FTC Sells Out Consumers & Justice Department in Consent Order Allowing GM to Sell Certified Used Cars With Outstanding Safety Recalls – 8/26/16
CAS Letter to US Attorney Preet Bharara – 8/25/16
CAS Comments on Proposed FTC Consent Orders – 2/29/2016
Consumer Groups, et. al Comments on Proposed Consent Agreement – 2/29/16
FTC Federal Register Notice: Proposed Consent Agreement – 2/3/16
FTC Documents
GM, Jim Koons Management, and Lithia Motors Inc. Settle FTC Actions Charging That Their Used Car Inspection Program Ads Failed to Adequately Disclose Unrepaired Safety Recalls – 1/28/16
CarMax and Two Other Dealers Settle FTC Charges That They Touted Inspections While Failing to Disclose Some of the Cars Were Subject to Unrepaired Safety Recalls – 12/16/16
Congress
Blumenthal, Markey, & Schakowski Introduce Bicameral Legislation to Require Used Car Dealers Repair Safety Defects, Recalls Before Selling – 7/28/17
Congresswoman Janice Schakowsky Letter to FTC – 9/12/16
U.S. Senators' Letter to NHTSA Administrator and FTC Chairwoman – 7/14/16
News
Buying a Vehicle at CarMax? Watch for Recalled Takata Airbags – 9/28/17
About 1 in 4 CarMax vehicles has unrepaired recall defect, safety advocates say – 9/28/17
VIDEO: Automotive News TV – Carmax Criticized for Selling Vehicles with Open Recalls – 9/28/17
One-In-Four Cars Sold At CarMax Locations Had Open Safety Recalls – 9/28/17
CarMax accused of selling unsafe vehicles – 9/28/17
Survey Finds Safety Defects in More Than 25% of Autos Sold by CarMax – 9/28/17
CarMax found to have unfixed recalls in 27 percent of autos, study says – 9/28/17
Is Your Used Vehicle A Timebomb? Loophole Lets Auto Dealers Sell Millions of Recalled Cars As 'Safe' – 3/27/17
Very Safe, Except for One Thing…Legal Clash with FTC on Marketing of Used Cars – 3/27/17
Buyer Beware: 'Certified' Used Cars May Still Be Under Recall – 12/16/2016
Feds criticized for allowing GM to sell recalled cars – 8/26/16