Driverless cars aren't safe or ready for the road: Robotics expert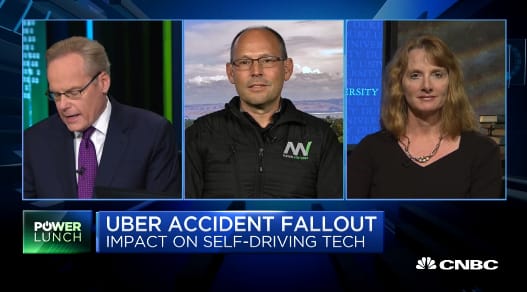 The Center for Auto Safety is the nation's premier independent, member driven, non-profit consumer advocacy organization dedicated to improving vehicle safety, quality, and fuel economy on behalf of all drivers, passengers, and pedestrians.
Driverless cars need to pass an acceptable set of standardized tests before they hit the road, said Mary Cummings, a professor in the Duke University Pratt School of Engineering and director of Humans and Autonomy Laboratory and Duke Robotics.
"You would never go to an airport and fly in an airplane with a brand new [automated landing] system that had never been tested before," Cummings told CNBC on "Power Lunch" Tuesday.
Cummings, who said she is "pro technology," argues that the same guidelines should be in place for self-driving cars, which she said are "unquestionably unsafe" and "deeply flawed" with gaps in computer vision and sensor fusion software.
"We certify and license humans by checking their vision," the robotics expert said. "I have been advocating for some time that these cars need vision tests. What I'm not advocating for is to put these cars on public streets and use the public as guinea pigs testing these technologies."
On Monday, Uber halted self-driving car tests after the first known death of a pedestrian. A 49-year-old woman in Tempe, Arizona, was walking outside of a crosswalk when she was hit by an Uber car in autonomous mode, according to Tempe Police.
Currently, there are no state or federal regulations around how driverless cars are tested, Jason Levine, executive director at the Center for Auto Safety, told CNBC on "Closing Bell." Levine said the technology is "moving way too fast."
Click here to read the full article from CNBC.