Citing Spotlight on America report, leaders ask White House to stop recalled car use, sale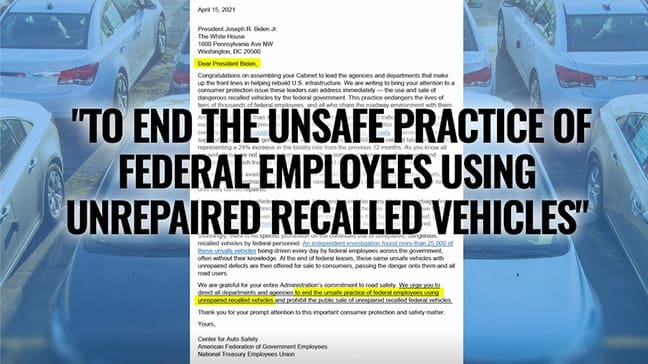 The Center for Auto Safety is the nation's premier independent, member driven, non-profit consumer advocacy organization dedicated to improving vehicle safety, quality, and fuel economy on behalf of all drivers, passengers, and pedestrians.
Jason Levine, Executive Director of the Center for Auto Safety, says, "No employer, or seller, should knowingly allow for the use, or sale, of unsafe vehicles. Especially the federal government."
By Joce Sterman, Alex Brauer, and Andrea Nejman
ABC News
WASHINGTON (SBG) — New calls for action on an issue Spotlight on America has been investigating for years, now going directly to the White House. More than a dozen organizations are urging President Biden to stop the federal government from continuing a dangerous practice: the use and sale of recalled cars that haven't been fixed. Their letter cites a Spotlight on America investigation that found more than 25,000 recalled cars in the government fleet.