Center for Auto Safety Testifies Before Congress on Safety Technology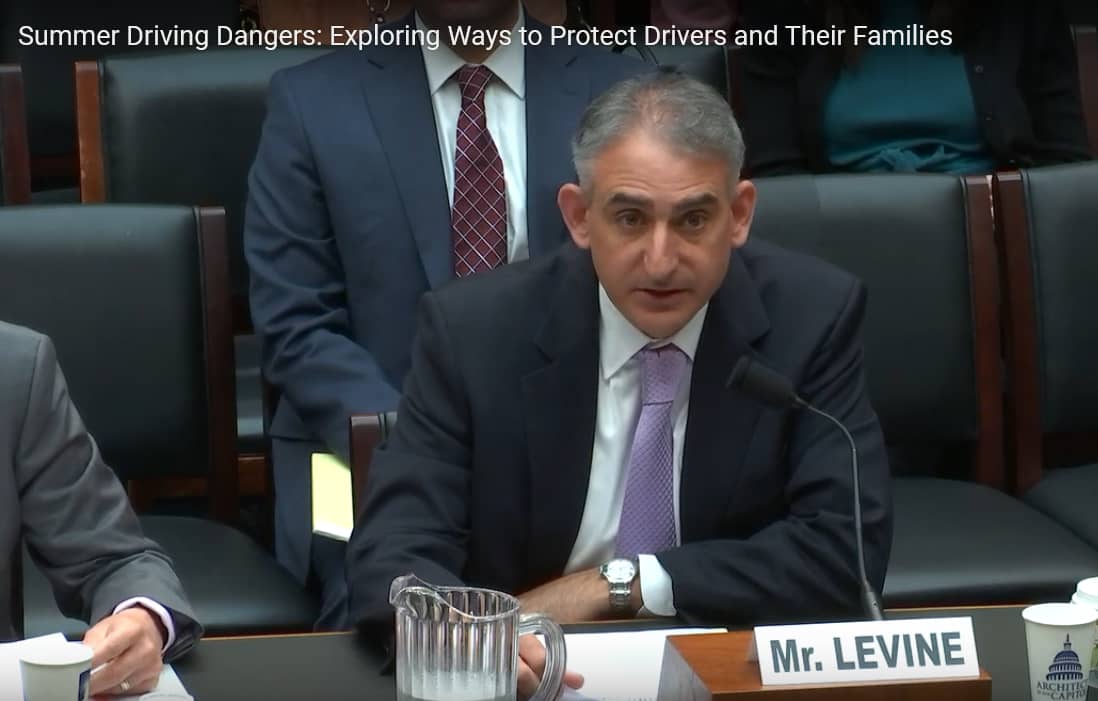 The Center for Auto Safety is the nation's premier independent, member driven, non-profit consumer advocacy organization dedicated to improving vehicle safety, quality, and fuel economy on behalf of all drivers, passengers, and pedestrians.
May 23, 2019
For Immediate Release
Contact: Jason Levine, [email protected] or phone at 202-328-7700.
CENTER FOR AUTO SAFETY TESTIFIES BEFORE HOUSE ENERGY AND COMMERCE SUBCOMMITTEE ON NEED FOR MANDATORY PERFORMANCE STANDARDS TO PROMOTE AUTO SAFETY TECHNOLOGY
On behalf of the Center for Auto Safety ("the Center"), Executive Director Jason Levine provided testimony Thursday before the House Committee on Energy and Commerce's Consumer Protection and Commerce Subcommittee hearing: Summer Driving Dangers: Exploring Ways to Protect Drivers and Their Families.
The Center's testimony focused on the importance of the National Highway Traffic Safety Administration ("NHTSA") writing performance standards that require new technologies, such as automatic emergency braking or lane departure warning, work as advertised and provide the appropriate level of safety for all consumers. Levine's testimony also highlighted NHTSA's failure to update its crash ratings resulting in the 5-Star program falling behind foreign rankings systems – all of which were based on the U.S. version.
"Sadly, while Silicon Valley, Detroit, and Wall Street use a lot of happy talk about millions of robot cars coming to save the world in the next few months, back here on planet Earth auto crash deaths and injuries continue to represent a public health crisis. Unfortunately, instead of writing minimum performance standards to require existing safety technology on new cars the current administration seems to prefer deferring to whatever the auto industry finds most profitable," Levine told the Committee.
He added, "the same crash avoidance technology features, often highlighted in TV commercials, including automatic emergency braking, lane departure warnings, or adaptive headlights, all exist in an unregulated state with varying, unpredictable, and poorly measured performance. This lack of standards leads to consumer confusion and diminishes the increased safety protections that this technology promises."
The Center, founded in 1970, is a member supported, independent, non-profit consumer advocacy organization dedicated to improving vehicle safety, quality, and fuel economy.
The Center's testimony detailed areas of advanced safety technology that could be implemented in the next generation of vehicles immediately if NHTSA provided leadership and minimum performance standards. The list included automatic emergency braking; lane departure warnings; sensors to assist with preventing children from being left in hot cars; technology to shut off keyless ignitions to avoid death from carbon monoxide build up; adaptive headlights to maximize visibility and minimize glare; and requiring improved event data recorders ("black boxes"). Additionally, Levine spoke to the urgent need to update the New Car Assessment Program in a variety of areas from side crash impacts to pedestrian protection.
The testimony concluded: "The ability to improve the safety of the 17 million new vehicles sold in the U.S. every year remains in our collective reach.  NHTSA must set mandatory performance standards in order to create a level playing field and ensure the technology meets minimum levels of functionality. Otherwise, consumers are dependent either upon their economic status for safety or relying on seeking civil justice after a tragedy, neither of which is a long-term solution to addressing this public health crisis."
"Auto safety is not now, and should never be, a partisan issue. The safety of our families and friends, our neighbors on the road, the pedestrians on our streets, the bicyclists in our bike lanes can be improved today, through technology and Congressional leadership. On behalf of our members, the Center for Auto Safety stands ready to help you in these efforts."
The Center's full testimony can be found HERE.
The Center's response to questions for the record can be found HERE.
***
Over the last 49 years, the Center for Auto Safety has successfully led the fight for lemon laws in every state, airbags in every vehicle, and recall repairs being made at no cost to the consumer. The Center is a membership-driven organization headquartered in Washington, DC and is also home to the Safe Climate Campaign which fights global warming by working for big, specific measures to reduce greenhouse gas emissions. The Center publishes The Car Book, which has for the last 39 years been America's most comprehensive car buying guide and now offers, exclusively for members, the monthly Safety TuneUp Report, for regular alerts on safety issues relating to their cars. To learn more about the Center, please visit www.AutoSafety.org.