Car thieves are still driving off with Kia and Hyundai cars, despite security fix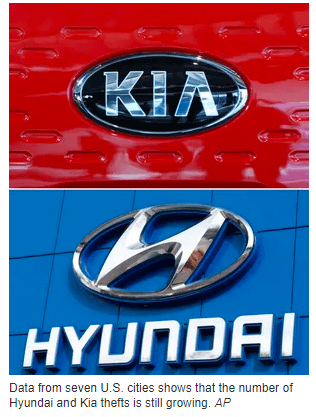 The Center for Auto Safety is the nation's premier independent, member driven, non-profit consumer advocacy organization dedicated to improving vehicle safety, quality, and fuel economy on behalf of all drivers, passengers, and pedestrians.
The automakers' service campaign to install the software should have been more aggressively pursued, said Michael Brooks, executive director of the nonprofit Center for Auto Safety.
By Tom Krisher, Associated Press
May 9, 2023
Nearly three months ago, Hyundai and Kia unveiled software that was designed to thwart an epidemic of thefts of their vehicles, caused by a security flaw that was exposed on TikTok and other social media sites.
So far, it hasn't solved the problem. Across the country, thieves are still driving off with the vehicles at an alarming rate.
Data from seven U.S. cities gathered by The Associated Press shows that the number of Hyundai and Kia thefts is still growing despite the companies' efforts to fix the glitch, which makes 8.3 million vehicles relatively easy targets for thieves.
Click here to view the full story from the Associated Press via USA Today.