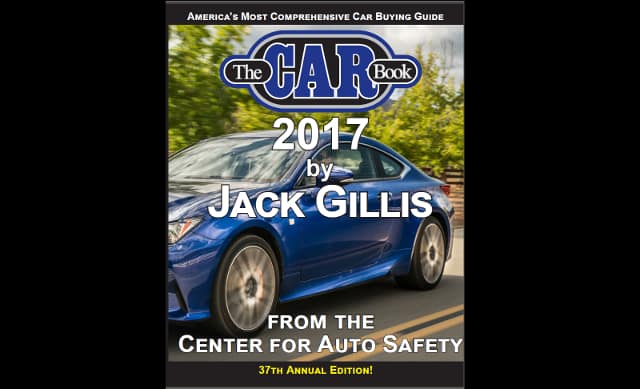 The Center for Auto Safety is the nation's premier independent, member driven, non-profit consumer advocacy organization dedicated to improving vehicle safety, quality, and fuel economy on behalf of all drivers, passengers, and pedestrians.

The 2017 Car Book is better than ever – and it's loaded with all the latest information for you about …
…crash tests,
…rollover ratings
…maintenance costs,
…fuel economy, insurance costs, and
…lemon ratings & reliability by make and model.
… insights on the best new electronic safety features to order.
… update reviews of the newest electric vehicles.
Foreword
2017 Car Book "Best Bets"
NEWS
Latest Vehicle Rankings Put a Surprise at Top of List
These cars earn 2017 "Best Bet" ratings
Which cars are the safest? It's hard to tell from the government's ratings

Check out our updated and expanded guide to buying a new 2017 model — car, van, truck or SUV.
The Car Book presents the latest safety ratings, dealer prices, fuel economy, insurance premiums, maintenance costs, tires, as well as a chart of state lemon laws. $29.00 (Canada & Overseas: $39.00)
The Center processes Car Book orders through the Independent Charities of America secure Give2Charity program. To purchase the 2017 Car Book, click here or on the Give2Charity logo below, enter the number you want in the "Comment" area, and enter the total price in the "Amount in US Dollars" box. You may have the Car Book shipped to a different address or person using the Comment" area.