Burned cop brings message on patrol car safety

The Center for Auto Safety is the nation's premier independent, member driven, non-profit consumer advocacy organization dedicated to improving vehicle safety, quality, and fuel economy on behalf of all drivers, passengers, and pedestrians.
Albany– Phoenix officer who was disfigured by fire to speak before state Senate committee


By CAROL DeMARE, Staff writer
First published: Tuesday, March 11, 2003
A Phoenix police officer who was severely burned when his Ford Crown Victoria cruiser burst into flames will tell a state Senate committee today what can happen if the automaker isn't pressured into making patrol vehicles safer.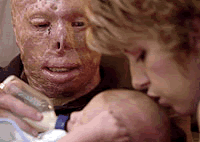 MATT YORK / AP PHOTOJason Schechterle and his wife, Suzie, hold newborn son Masen at their home in Avondale, Ariz., in this December file photo.


Jason Schechterle, 30, speaks throughout the country on how his life changed on March 26, 2001, when his patrol car was struck from behind by a taxicab.


"I want to let them see me and let them hear what happens when you do survive a fuel-fed fire," said the father of three, including a baby born Oct. 29.


At least 13 officers nationwide have died over the past 20 years after crashes in which Crown Victorias caught fire, according to the National Highway Traffic Safety Administration. Last October, the federal agency said the Crown Vic conforms with federal standards for highway safety.


But police agencies want changes. on Dec. 19, on the state Thruway in Yonkers, a Jeep Cherokee slammed into the rear of a patrol car, causing it to burst into flames and killing Trooper Robert Ambrose, 31, and the driver of the Jeep. Ambrose was completing an accident investigation while parked along the shoulder of the highway.


At 6 feet 3 inches, Schechterle is an imposing man with his scarred and terribly disfigured face. He was in a coma for three months, and fourth-degree burns left little but bone on his face and neck. He received numerous skin grafts. He has no right ear and only a small portion of the bottom of his left ear.


During an interview Monday, Schechterle said that a surgeon recently built him a nose. The officer said he was pleased with it and happy to have found a physician who wanted to give it a try. "It'll take two or three procedures, and I think the nose is going to look pretty good," he said.


He said he's not sure how much more will be done to his face. "There will come a time when I will say enough is enough, I'm OK with how I look," he said.


He said 43 percent of his body was burned, mostly from the neck up and his shoulders, arms and hands. A bulletproof vest guarded his chest and back.


He returned last month to duty as a public information officer for his police department. Because both his hands are deformed, he can't qualify with a firearm, he said.


Now Schechterle wants to get out the word about safety. He will be among a dozen speakers appearing today before the Senate Committee on Investigations, headed by Sen. Nick Spano, a Yonkers Republican in whose Westchester County district Ambrose was killed.


When a Crown Victoria is struck from behind, the gas tank is pushed forward into the axle, which has bolts and brackets that can puncture it, sending out fuel that can ignite, explained Dan De Federicis, president of the New York State Troopers PBA.


The troopers union is pushing for more safety measures. Two months ago, its members considered refusing to patrol in Crown Vics until the cars were fitted with a safety shield that could prevent a gas tank explosion. All 828 Crown Vics in the State Police fleet have since been retrofitted with the shields. But police officers feel that's only a first step.


"Ford has the responsibility to make these cars as safe as possible using all available technology," Schechterle said. "Shields are a minimal example of what's available."


De Federicis suggested installing fuel bladders and a fire suppression system such as used in NASCAR race cars and in military vehicles. Phoenix spent more than $1 million to install bladders in 735 cars, Schechterle said.


Phoenix attorney Patrick J. McGroder III also will appear before the committee. He represents seven individual plaintiffs, mostly families of officers killed in Crown Vic crashes, and several municipalities participating in a federal lawsuit claiming that the vehicles are defective.


A representative of Ford also is on the list of speakers.


State Police are responding, spokesman Sgt. Glenn Miner said. After the death of Ambrose, Miner said, a committee was established to investigate what steps could be taken to improve safety both inside and outside the Crown Victoria, including tank bladders, fire suppression panels and a trunk organizer, such as a tray that can hold the various pieces of equipment police carry.


"Officers are surviving the initial impact," De Federicis said. "The crash is not killing them. They are burning to death seconds after the crash while trapped in their vehicles."