2 Investigates: Kia models left off recall list also prone to dangerous engine fires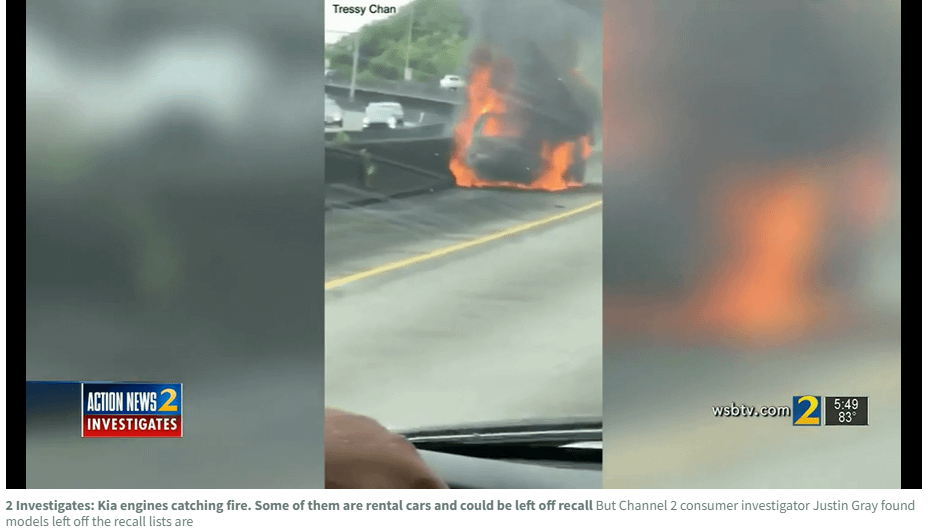 The Center for Auto Safety is the nation's premier independent, member driven, non-profit consumer advocacy organization dedicated to improving vehicle safety, quality, and fuel economy on behalf of all drivers, passengers, and pedestrians.
The Center for Auto Safety was the first to petition NHTSA about Kia fire safety dangers. Its acting executive director Michael Brooks says Jordan had no way to know of a potential risk when he picked up his rental car.

"There's literally no way for that person to know, when they walk in there and into the rental facility that they're going to be getting a car that's potentially dangerous," Brooks said.
By Justin Gray, WSB-TV and WSBTV.com News Staff
May 25, 2022
ATLANTA — Earlier this month, Channel 2 Investigates told you about yet another recall of Kia and Hyundai vehicles over fire dangers. That pushes the total number to more than eight million vehicles.
Channel 2 Investigates has been reporting on these fires since 2018. But Channel 2 consumer investigator Justin Gray found models left off the recall lists are also catching fire. And some you could be handed the keys to one as a rental car.
Most customers are not running the VIN (Vehicle Identification Number) on a rental car for safety concerns. But for a mother and son on a picture-perfect Hawaiian vacation, even if they had researched the car for problems, it would have come up clean.