For thirty-eight years, the Center for Auto Safety has published The Car Book, America's Most Comprehensive Car-Buying Guide. This year, The Car Book is even more convenient and accessible—we've made it available online for the first time ever. Now, you can have all the most important make and model information at your disposal with just a click of the mouse—or fingertip.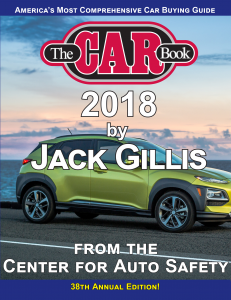 Each year, the Center collaborates with the legendary Jack Gillis to provide a thorough look at everything—the good and the bad—that each year's fleet has to offer. The Car Book Online is full of all the facts that you need to make an informed purchase of a vehicle this year, including:
crash test ratings;

rollover ratings;

maintenance costs;

fuel economy information;

insurance costs;

lemon ratings;

reliability by make and model;

insights on the best safety and electronic add-ons;

ratings on used car models for the past five years;

and information about lots electric vehicle options.
If you're a Center for Auto Safety member who has already renewed membership for 2018, then good news! You have access to The Car Book Online right now. Just visit TheCarBook.com and register with your membership number, which was mailed to you. If you have lost your membership number, please email us for support. And if you have been waiting to renew your membership, don't wait any longer. Renew today to support automotive safety and gain instant access to The Car Book 2018.
Not a member, but still want online access to The Car Book? Click here and you can choose to gain year-long Car Book access by making a tax-deductible contribution to join the Center, or if you only need a month's worth that's available for $9.99. Before you decide, you can take The Car Book for a test drive by visiting TheCarBook.com. You'll be sold!
As always, print copies The Car Book 2018 are available, while they last, for those who would prefer them. Click here to purchase a physical copy of The Car Book and support the Center for Auto Safety.
What Others Are Saying About The Car Book
"There are plenty of safe, high quality, money saving used cars out there — if you know what to look for," said Jack Gillis, consumer advocate, auto safety specialist and author of the Car Book auto guide. The 38-year-old car-buying booklet, researched in conjunction with the Center for Auto Safety, for the first time in 2018 added five years of used car ratings to complement new vehicle information.
The secret, of course, is knowing the best make and model to purchase. And now, it's no longer a secret.
With gas prices already up 15 percent so far this year, fuel efficiency is starting to enter car shoppers' conversation again. That makes the best and worst gas mileage list just published by the Car Book — now also available online at thecarbook.com — particularly timely.

On the worst list, you have high-horsepower SUVs and sports cars for what might be called the "I want to go fast and don't care how much I spend on gas" buyers. On the best list, it's mostly electric or hybrid vehicles for the "I want to save on fuel costs and look green doing it" shopper.
We live in a golden age of information access, and anyone with an Internet connection can research specific vehicles and compare them to the competition. Before you head down to the dealership, it is a good idea to do research about the best used cars for families and find out more about a car's fuel economy, cargo space, horsepower, and other features that appeal to you. You can get ratings on used car models for the past five years in The Car Book and it just went online for the first year at thecarbook.com
Family Focus Blog offers great advice for families looking to purchase a used vehicle. Check out their tips here.
For 38 years, Jack Gillis and the Center of Automotive Safety have partnered to develop the Car Book, which has been helping buyers sort through those thousands of different vehicles and equipment levels to determine the best vehicle for a buyer in any given year.
Today's new cars are the safest ever. That's due, in large part, to a number of hi-tech safety features, such as lane-departure warning, rear cross-traffic warnings, blind spot monitors and adaptive cruise control. When you go shopping, you need to take the time to check which safety features are standard and which are optional, if available at all. Jack Gillis, director of public affairs at the Consumer Federation of America and Author of The Car Book 2018, says the range of safety features varies from manufacturer to manufacturer and vehicle to vehicle.
Learn more about past editions of The Car Book and our other reports here.