Center for Auto Safety Calls on NHTSA to Keep NCAP Independent of Manufacturers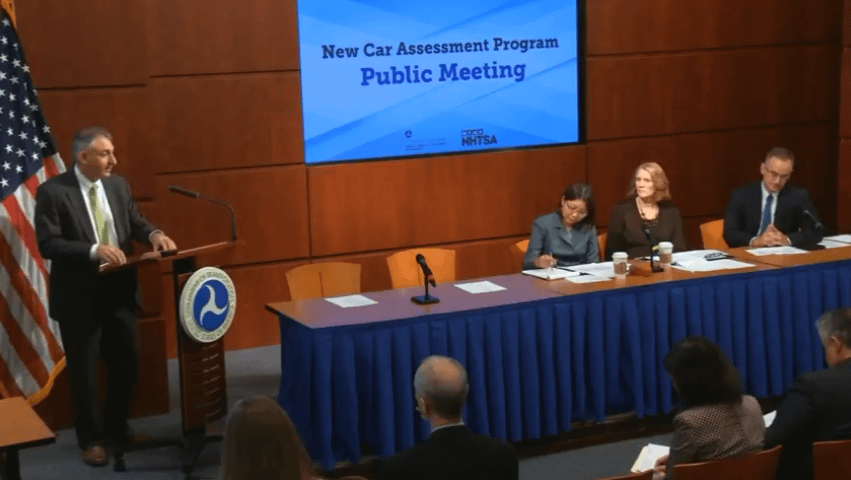 The Center for Auto Safety is the nation's premier independent, member driven, non-profit consumer advocacy organization dedicated to improving vehicle safety, quality, and fuel economy on behalf of all drivers, passengers, and pedestrians.
FOR IMMEDIATE RELEASE
October 1, 2018
Center for Auto Safety Calls on NHTSA to
Keep NCAP Independent of Manufacturers

Recommends Introduction of a "Silver Star" for Older Americans
and a Pedestrian Safety Component to the Ratings Program
At a public meeting at the US Department of Transportation (DOT) today, the Center for Auto Safety (Center) provided its comments to the National Highway Traffic Safety Administration (NHTSA) on the New Car Assessment Program (NCAP). In its public comments, the Center called on NHTSA to turn away from its plan to make NCAP beholden to auto manufacturers and irrelevant to consumers. Instead, the Center offered ways NHTSA could revitalize NCAP and continue the program's decades-long success of providing consumers with crashworthiness information to inform vehicle purchases and incentivize vehicle manufacturers to improve occupant protection."The vital role NCAP plays in mitigating and preventing auto fatalities and severe injuries is why the Center is concerned that NHTSA's current request for comments is a shift in how the agency envisions the purpose of NCAP," testified Jason Levine, executive director of the Center. "Surely NHTSA would never intentionally threaten the ability of NCAP to effectively evaluate new safety technologies and continue to provide consumers with valuable comparative information when making vehicle decisions. But based on the track record of this administration bending over backwards to assist industry, there is a real danger of this life-saving program losing its value."
Levine's statement continued: "Making NCAP into a formal notice and comment rulemaking process is ill-advised because it would dismantle the built-in flexibility of NCAP in an era where crash avoidance and crashworthiness technology needs more oversight and explanation than ever. Even worse, the proposed process would enable manufacturers to self-certify and submit non-independent data, preventing the program from achieving the level of discrimination for consumers that a truly useful ratings system provides."
Amongst other improvements, the Center recommended including in NCAP:
A Silver Star to help rate vehicle safety for Americans age 65 and older, the country's fastest growing demographic. Current NCAP tests do not account for the different body types and mass of the average older American;
A Pedestrian Safety NCAP to incentivize and reward manufacturers for adopting collision avoidance features and automobile design features that protect pedestrians and minimize death and injury in an accident. Pedestrian deaths were approximately 16% of crash deaths last year with almost 6,000 deaths, a frighteningly high figure. The death/injury rate for a pedestrian involved in a traffic crash is 5.7 times the rate for a motor vehicle occupant;
Evaluation of Crash Avoidance Technology: To accelerate incorporation of these life-saving technologies into cars, to stimulate competition and incentivize continuous safety improvement, the NCAP program could, and should, evaluate the efficacy of these important systems and provide buyers with assessments of crash avoidance features, both in absolute terms and relative to other vehicles;
Safety for Rear Seat Passengers: NCAP crash tests should include rear seat occupant anthropometric test devices (ATDs or Crash Dummies) of both adult male and female, as well as infants and other ATDs simulating older American's body types, to validate vehicle safety, with the purpose of making the rear seat as safe as the front;
A Post-Crash NCAP to include important post-crash characteristics of automobiles which effect occupant survivability, including the propensity of the vehicles to burn after a crash, as well as evaluating the performance of automatic crash notification systems.
"There are numerous areas in which America's NCAP now lags far behind programs in Europe and other countries that once modeled themselves on the US system. This is a trend that can, and should, be reversed," said Levine. "The Center for Auto Safety calls on NHTSA to move quickly to update NCAP in a way that provides the American consumer with transparent, comparative safety rating information which will properly incentivize manufacturers to produce new American vehicles that are the safest in the world."
Read our full statement
here
. 
##
Over the last 48 years, the Center for Auto Safety has successfully led the fight for lemon laws in every state, airbags in every vehicle, and recall repairs being made at no cost to the consumer. The Center is a membership-driven organization headquartered in Washington, DC and is also home to the Safe Climate Campaign, which fights global warming by working for big, specific measures to reduce greenhouse gas emissions. The Center is also the publisher of The Car Book, which has for the last 38 years been America's most comprehensive car buying guide. To learn more about the Center, please visit
www.AutoSafety.org.